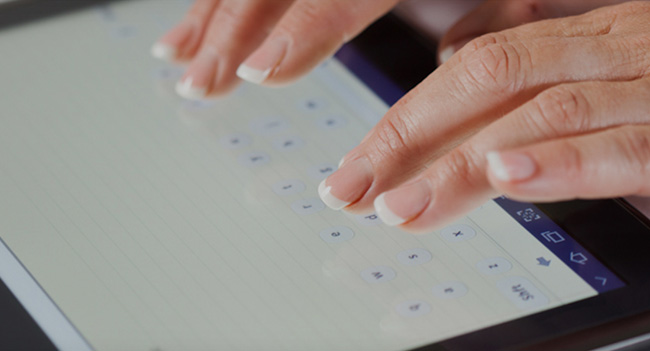 The plates are attractive enough mobile devices for content consumption. But using them to create content, such as typing, it is not convenient. For these purposes, are usually used with external keyboards by Bluetooth. Correct this situation promises to Randy Marsden (Randy Mardsen) on-screen keyboard Dryft.
Dryft keyboard automatically adapts to the user and puts the key in the places where the user's fingers. Thus, the keyboard is adapted to the user and not the user of the keyboard. Users only need to put your fingers on the display tablet into a familiar position for the blind set. After that Dryft adjust the location of the soft keys under the fingers of the user position. Thereby it is possible to quickly and accurately enter characters. Also, while the keyboard will automatically adjust the location of the soft keys. For this purpose, data display and accelerometer sensor.
 Dryft keyboard is designed for use on tablets with screens 10 inches. The assurances of the developer, trained blind method sets the user can enter using the new on-screen keyboard to 80 words per minute. Release Dryft be held next year. Currently, negotiations are underway with handset manufacturers regarding licensing of solutions for platforms Windows Phone, Android and iOS. In addition, developers can integrate into their applications Dryft using SDK.
Read another very interesting article about alternative energy of the Sun, water and air.