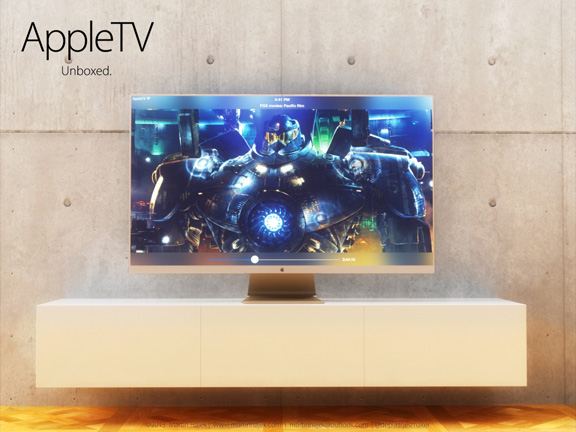 On the day of the presentation of the smartphone iPhone 4s Masayoshi Son, CEO of Softbank, met with Tim Cook, the successor to Steve Jobs. Suddenly, their conversation is interrupted by a call. Cook apologized: "I'm sorry, I have to interrupt our meeting, my boss calls me, Steve said he wanted to discuss one of the following products." Then there were discussions in the media – about what exactly the product on the eve of his death, said Steve Jobs, there were differing assumptions.
Perhaps the answer to this question is contained in the official biography "Steve Jobs." The book tells the story of the founder of Apple that was working on a new product, capable of blowing up the industry like the iPhone. And the product of this – the TV. So maybe it was then, on the eve of his death, Steve Jobs and discuss iTV tete with his successor?
On the Internet from time to time there are concepts whose developers, inspired by the current products Apple, try to anticipate what will be the TV is a hypothetical company. Revolutionary ideas for television under the "apple" brand invited famous designer Martin Hajek. He calls his concept of iTV or Apple TV. The device with the advanced interface is tightly integrated into the ecosystem "apple" products, and provides the ability to use the iPad or iPhone as a remote control.
But the main "chip" TV is a big color display and a curved aluminum shell. Hayek proposed a two color design for iTV – classic black and gold. The second option in combination with the white frame looks advantageous. C back of the iTV resembles a large iMac.
Commenting on his design concept, Hakek noted that any model it builds on existing products Apple. Was based on company branded candy bars, set top box and materials iPhone 5s. No reports about the cost of a such a device, but it is assumed that this is what will look like a TV Apple.
Read another very interesting article about alternative energy of the Sun, water and air.