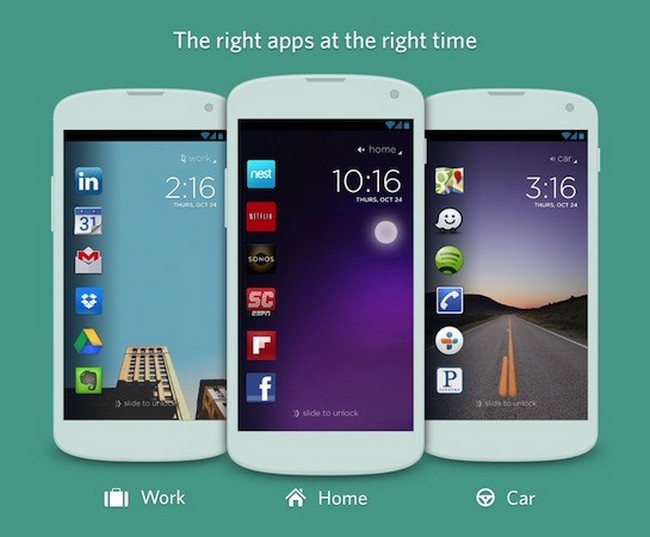 At the moment, there are many alternative applications that replace the standard blocker screen in the operating system Android. Some of them are included in the alternative shell, offering a different experience of interaction. Currently, the list of alternative blockers screen filled with a product that was created by former employees of the companies Facebook, Google and Yahoo, – Cover.
Cover the application always knows the location of the user, is well oriented in time and brings to the lock screen shortcuts to the most frequently used applications. Moreover, it always adapts to the user. For example, if a user is at work, on the Lock screen displays shortcuts Gmail, Calendar, and Dropbox. On his return home, they are replaced by shortcuts Netflix, YouTube, and Sonos. Cover feature that it automatically makes a desired icon by analyzing a user's specific location.
It is worth noting that at the moment there are many alternative blockers screen that displays shortcuts to the most frequently used applications, but none of them does not change them during the day.
Another feature is the Cover Peek feature that allows you to see the contents of the application without the need to implement fully unlock the screen.
Todd Jackson, co-founder and CEO of startup Cover, states that the main purpose of the application – providing the "right application at the right time."
According to the journalists The Verge , in the course of testing no failures Cover noted. On the contrary, only rave reviews: smooth scrolling, and the speed and responsiveness of the work.
Jackson said the team still have to strive for. At this point, the application is more suitable for users who are most adept at using the right hand, as the gestures work better when used to control the thumb. Some may irritate the inability to attach the necessary labels themselves. It is also noted that all elements of Cover occupy a small enough space. Thus, the lock screen is a lot of empty space that can be filled with meetings scheduled calendar or a widget to view the applications.
Cover Company, in turn, does not plan to dwell on the lock screen and see a few areas where you can improve Android. For example, the use of contextual data for security purposes.
Application in the near future will appear in Google Play. More information can be found on the official website.
Read another very interesting article about alternative energy of the Sun, water and air.