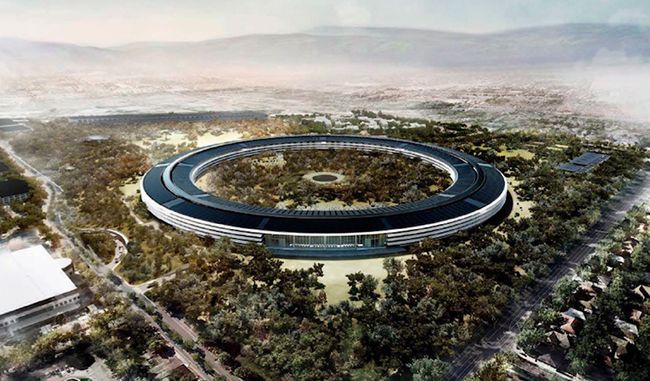 Recently, there was news about a newly built campus of Apple , reminiscent of a donut, or a spaceship. Media corrected and publish an interview with one of the architects of the project. In addition, in an interview with reporters Architectural Record founder and CEO of Foster + Partners spoke about the construction of the building.
According to Norman Foster, to create a home-rings Steve Jobs inspired the campus of Stanford University. It was used as a reference, although the similarity is not easy to see.
Much easier to see the similarities glass building with airports. This comparison comes from the mouth of the architect and based on the fact that it is much more economical to build one building terminal than five different buildings with a variety of inputs and outputs.
By the way, if not the form of the ring, instead of one of such facilities would have to build 17. This not only would complicate people's lives, but would require more space – the new building will take only 13% of the area allocated to Apple.
Free area is supposed to occupy vegetation. In order to properly place the parks inside the building, Foster studied area in London, and then decided that the trees should grow up and out:
"In the early stages it was assumed that organic segments will be located inside the building, but then we decided to conclude in a wooded area and the building itself, to repeat the original Californian landscape and return flowering gardens of the past. On campus, you can not see the cars, the asphalt will be replaced with grass, and the car park – jogging paths and cycling. "
Sounds great. Images of paradise on earth float before my eyes. However, it will be difficult to achieve idyll. "To build a similar building, you will need to make a lot of skills and technologies, everything must fit exactly and counted." Arrange all the required sections of the building (which is not only study, but also dining, fitness center, recreation room) so that working on campus was convenient to interact.
If all goes according to plan, construction will be completed in 2016, and it can work 12,000 employees Apple. The full interview can be read by Norman Forster, using this link .
Read another very interesting article about alternative energy of the Sun, water and air.