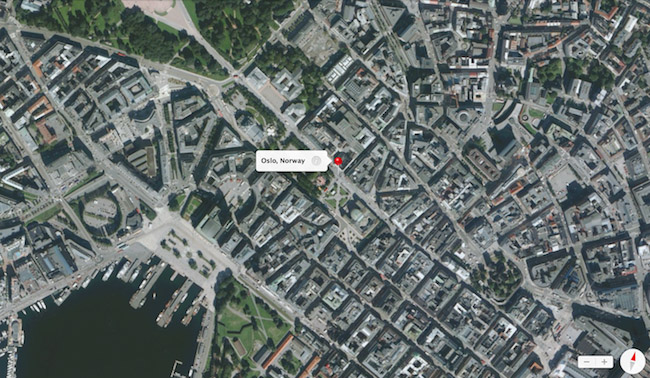 After Apple removed Google Maps from iOS 6, it issued its own mapping application , which has long received negative feedback from users. One of the features of Apple Maps is a mode «Flyover», allowing to view 3D-panorama of many cities in the world. For example, you can stroll around the Eiffel Tower or even look under the bridge, "Golden Gate" in San Francisco.
But not all countries want their capital were available in 3D mode in the cards Apple. As 9to5Mac reports citing the newspaper Aftenposten, the Norwegian government recently banned the technology giant to shoot 3D-panoramas of Oslo. The reason is quite banal: officials do not want Apple to filming sensitive sites in Oslo to improve your cards.
For recording of 3D-models Corporation uses small aircraft, equipped with professional cameras. They fly around the buildings and literally make rubbings of their shape and appearance. After processing the data obtained full 3D-image appears in the maps of Apple.
Therefore, it is clear that in the process of shooting the company can accidentally shoot and secret objects. Now, Apple representatives to discuss with the Government of Norway for alternative ways out of this situation. The two sides may well conclude an agreement by which aerial devices will stay away from the military bases, research centers, and so on.
3D-map of Oslo before the company was doing C3 Technologies – its Apple acquired in late 2011. In their maps Corporation uses some models of cities of the world from C3, but not in the capital of Norway. I wonder why the government has allowed third-party capture all objects office, but do not let it known companies. Afraid of PRISM and the NSA of the United States?
Oslo – a rather beautiful European city, and wish that tourists will not be able to better navigate it with the help of 3D-mode Apple Maps. Perhaps the corporation and the government will be able to reach a consensus, but this again will take time. Norwegians themselves entirely on the side of Apple.
Read another very interesting article about alternative energy of the Sun, water and air.