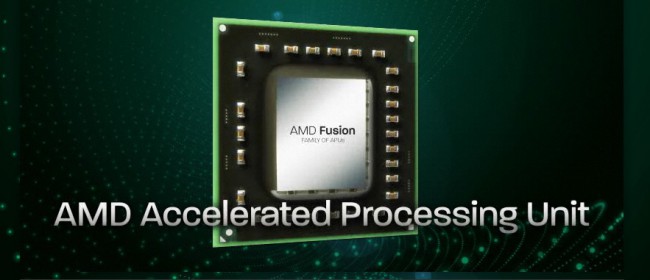 During the conference, developers APU13, AMD announced that APU Kaveri, the world's first processors with heterogeneous architectures – CPU and GPU with a common pool of system memory available on a single chip will be available in January 2014.
It is known that the four processor cores (two modules Steamroller) flagship A10-7850K will work with a clock speed of 3.7 GHz. The processors will be manufactured at the production facilities at rates GlobalFoundries 28nm process technology and will need to run the new motherboards with socket FM2 +.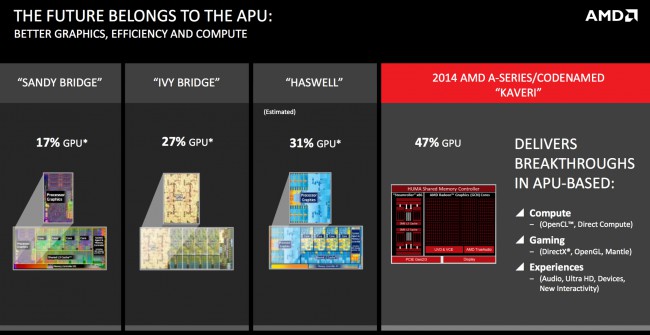 As mentioned above, the main feature of the fourth generation of hybrid processors AMD is the revolutionary heterogeneous architecture HSA. In the APU Kaveri implemented architecture HSA 2.0. In short, in the configuration of the APU Kaveri includes CPU (two modules Steamroller) and GPU (graphics eight blocks (512 stream processors) Radeon architecture GSN 1.1). In this case, the CPU and GPU interact through technology hUMA (heterogeneous unified memory), which provides them with access to a shared pool of system memory, and more importantly – the ability to read the results of each other's work directly from memory without the need for additional software. This allows you to throw out the process a huge number of intermediate steps and quickly work together to perform the operation.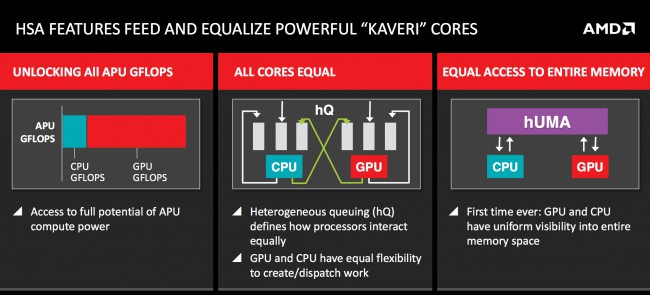 In theory, HSA and hUMA is quite promising bunch, which gives developers full control and allows you to use not only the possibility of CPU, but also take full advantage of GPU. At the moment, to solve problems in the graphics part of the GPU using only browsers and image editor Photoshop.
As planned by AMD, HSA 2.0 architecture is to facilitate the process of unloading and handling of daily tasks in graphic blocks, but here again it all depends on the software developers and the programs that use heterogeneous computing. In practice, given sufficiently small market share AMD, the overall performance gain is likely to be minimal. However, "white-green" promise to developers with the tools that will accelerate the process of promoting the HSA, including compiler Linux GCC / HSA. Unfortunately, at present it is difficult to judge how good this compiler and how many developers have worked to optimize the programs under the HSA 2.0. It should be noted that the HSA is an open standard and can use microprocessors and signal processors ARM. Despite this, most of all, AMD's promotion HSA will take years.
Unfortunately, at this moment it is unknown whether any relation to the family Kaveri hybrid processors AMD, which are used in video game consoles, PS4 and Xbox One, and they were created with an eye to the HSA 2.0.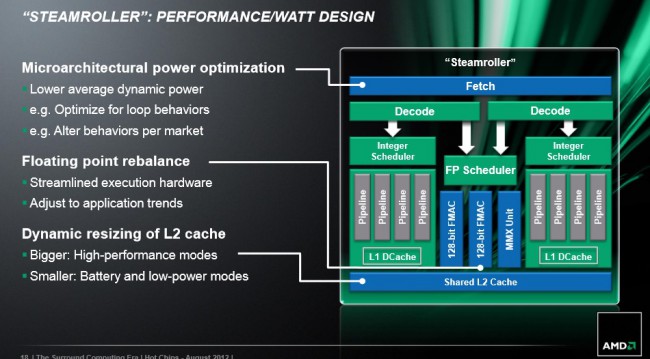 Finally it is worth noting that the processors support Kaveri API Mantle, who, AMD advances since the announcement of the series graphics cards AMD Radeon R9 and R7 .
Read another very interesting article about alternative energy of the Sun, water and air.