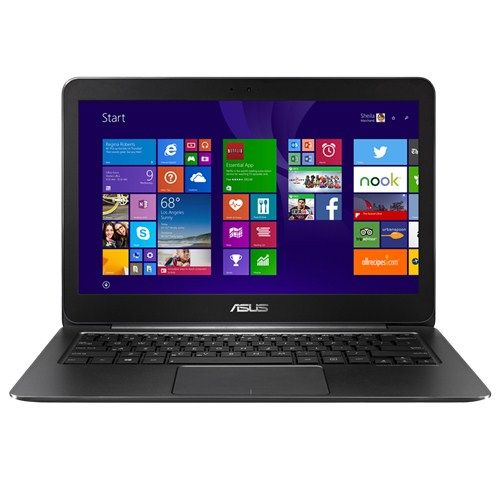 ASUS company continues to develop its line of Ultrabooks, each time creating more and more interesting solutions. At this time we got to test the model ASUS ZenBook UX305FA, a distinctive feature is the display resolution 3200h1800 points, as well as completely passive cooling system in the body simply does not have a fan. Let's see how well turned out this model.
Scope of delivery
ASUS ZenBook UX305FA comes in a small box with a picture of the device.
Inside you can find himself ultrabook, compact charger adapter with USB to Ethernet, and cover.
Options traditionally for ASUS, good. Particularly pleased that the company does not stint put in a box with a laptop adapter, which could easily be sold separately.
Design, materials and build quality
ZenBook UX305FA looks just fine, as compared to previous models, its design has become more complete and accurate. It began to dominate the flowing lines and transitions.
It all starts with a lid that has a radial grinding around the ASUS logo and a little rounded the edges. Metal cover polished to a shine, and it is the only element in the design, which gives "gloss", and the entire lower part of the inner ultrabook – matte.
This is a very interesting approach because it turns out that all the glitter device when you open the lid stays on the outside and appears to the user as simple and practical design.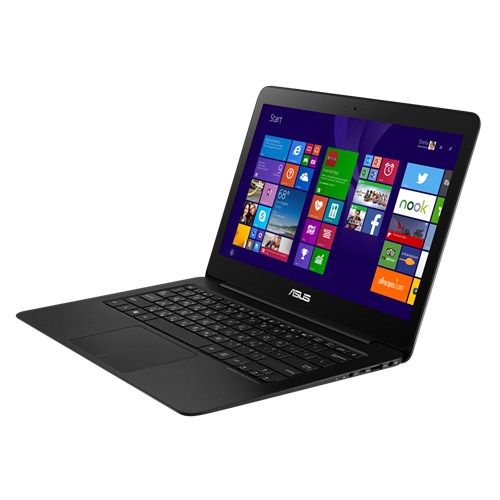 The main body material in ZenBook UX305FA – anodized aluminum and only keyboard and display hinge made of plastic.
Dimensions ASUS ZenBook UX305FA is 324 × 226 mm, which is quite typical for a 13.3-inch model, but the thickness of 12.3 mm makes the device record in its class. The company managed to achieve this by eliminating the active cooling system, as I discuss below, as well as a new approach to the assembly. Top panel Corps Base, which is the keyboard and touchpad is carved from a single piece of aluminum, and it has already bolted lid covering the bottom. This approach allowed us not only to strengthen the structure, but also easier to customize parts to each other. As a result, the build quality at ZenBook UX305FA simply excellent, no backlash and gaps in the building no.
Ports and connectors
Case Thickness 12.3 mm could be a justification for a small number of ports in ZenBook UX305FA, but, ASUS did not abuse it. Therefore, in this model on the left side you can find two USB 3.0 ports and a slot for cards format SD.
And on the right is located socket charger, another port USB 3.0, but with fast charging, micro HDMI, and 3.5mm headphone jack.
As you can see in the photo, the USB ports are written in almost the entire thickness of the lower part of the body, and it is a great merit of engineers ASUS.
Ease of use
Display hinge in the ASUS ZenBook UX305FA is stiff and well captures the display in all available positions.
Keyboard ultrabook island type typical for such devices layout and well-spaced keys. The latter have a clear course and are pleased to print. On the downside, the keyboard can be attributed combined with a number of options, function keys, which is why, for example, to adjust the volume needed to clamp down Fn. In addition, the keyboard has no backlight. Perhaps this is due to the thickness of the shell, but once the engineers managed to fit in a full-size USB, then no backlight at least surprising.
The touchpad in ZenBook UX305FA made by ASUS was comfortable to use, it specifies gestures and touch. Through this work with Windows 8.1 on this ultrabook was comfortable, although it and no touch screen.
Display – ASUS ZenBook UX305FA
Diagonal of the display in the ASUS ZenBook UX305FA is 13.3 inches, and it is based on IPS panels with a matte finish and a resolution 3200h1800 points that forms a density of 276 pixels per inch. The viewing angles are almost 180 degrees. In Ukraine, will also be available configuration ZenBook UX305FA with Full HD screen.
Color due to matt display may seem not as colorful as the glossy, but in general it is more practical, eye-catching much less glare.
Platform and Performance
Unsubscribe from the fan housing ZenBook UX305FA ASUS has been able thanks to a new family of 14-nanometer processors Intel Core M. In test ultrabook was established on 2-core chip Intel Core M-5Y71 with the base frequency of 1.2 GHz, 2.9 GHz, as well as in mode Turbo Boost.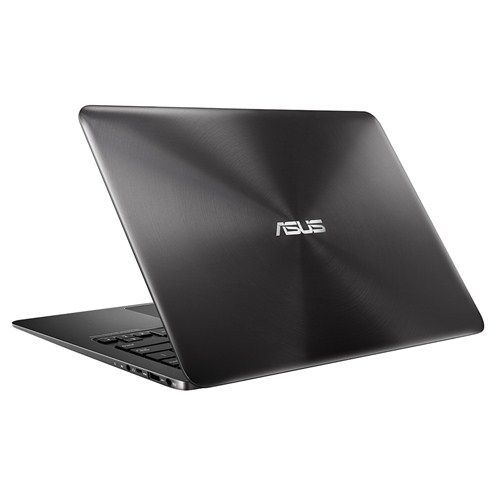 Its TDP is at 4.5 W, and it really highlights the little heat. Under high load, ZenBook UX305FA body heats up, but it can be called a rather warm than hot. The temperature of the bottom panel is not beyond the comfortable use. Performance Intel Core M-5Y71 more than enough for the common user tasks, such as working with the browser, documents, movies and photo editing. This is confirmed by the PCMark 7 and 8, in which, under different scenarios work ultrabook gains from 1791 to 2888 points.
For processing graphics, ASUS ZenBook UX305FA meets the embedded Intel HD Graphics 5300, clocked at 300 MHz to 600 MHz, depending on the load.
The graphics are good at drawing the high-resolution display, Windows 8.1 interface is fast. But gamers a better look at specialized solutions in the test 3DMark Cloud Gate gaining 2638 points.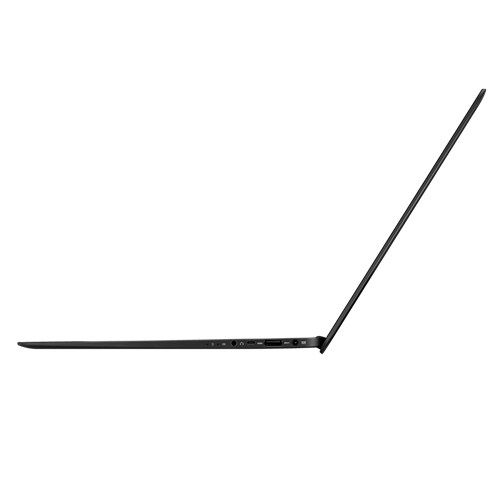 Built-in data storage ultrabooks based on solid-state drive, a test version of its capacity is 256 GB. SSD works in ZenBook UX305FA expected quickly, providing high speed for reading and for writing.
In general, the work of the ASUS ZenBook UX305FA quite comfortable, if not to load it unusual for portable computer tasks, there are no performance problems will not be.
Autonomy
The average operation ASUS ZenBook UX305FA provides autonomy of 6-7 hours. In our test under high load, it lasted 3:00 and 31 minutes, and while reading device able to work more than 8 hours.
This is quite a good indicator for ultrabook in such a slim body, but, in general, would like to see its autonomy was at 9-10 hours.
In summary – ASUS ZenBook UX305FA
There was excellent ASUS ultrabook that stands out from the competition a record thickness, passive cooling system, good design, and equipment. Of course, he would not have prevented the backlit keyboard and a large autonomy, but otherwise, ASUS ZenBook UX305FA justify the highest expectations than deserves the award "Editor's Choice".
Liked:
+ Delivery
+ Design
+ Dimensions and weight
+ Materials and build quality
+ Ease of use
+ The quality of the display and a matte finish
+ Comfortable keyboard
+ Quiet operation
Did not like:
– No backlit keyboard
– Autonomy could be higher
Source: Asus
Read another very interesting article about alternative energy of the Sun, water and air.