Tim Cook during the announcement of financial results Apple did their best to dodge the numerous attempts of journalists to find out information about the future plans of the company. The only mention of the date of announcement of new products was made by Peter Oppenheimer – fall further in 2014. This theme finance director promised to return in October for the next quarterly conference. So, in late October, Apple will have something to discuss in the number of new products.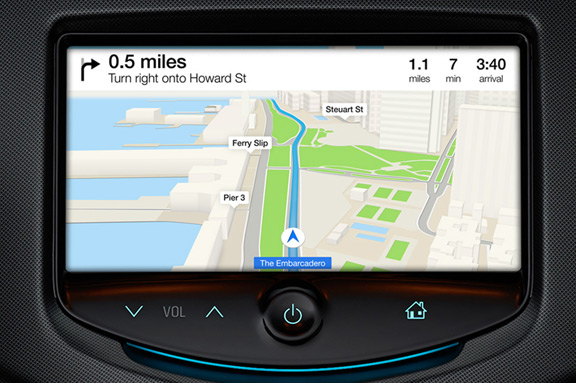 Later in the question and answer session, Tim Cook spoke about the integration of iOS 7 car manufacturers. At WWDC 2013 Apple has promised that in 2014, more than 10 car manufacturers offer deep integration of on-board entertainment systems with products of Apple. During the presentation of iOS 7 company has dedicated a separate part of iOS in the Car («iOS in the car"). Vice president Eddy Cue said that with this function drivers can seamlessly integrate iPhone and iPad with automotive entertainment systems. When driving and staying focused on the road, you can make calls, send or receive messages, play music from mobile devices and even use software interface iOS 7 on the display board system of the machine.
Today, Tim Cook said that the car market is a priority for Apple. He is an equal part of the ecosystem, along with the app store. For humans it is important, according to Cook, "to have something in the car," and Apple is ready to make some unique offers to consumers, beating competitors in this field.
It must be said that some car manufacturers even hardware integration of Apple products perceive very painful. Usually, a couple of years ago, the interfaces for the iPhone and iPod have increased the cost of the machine is not in the hundreds of dollars. And so it was a shame the owners of such complete sets to know that Apple has developed a new connector Lightning.
The problem now iOS-connected devices to the onboard vehicle system lost its relevance – even many inexpensive models include USB or AUX input and work via Bluetooth. At Apple, however, consider this direction is very important, and strive to offer tighter integration with the iPhone and iPad vehicle systems.
Read another very interesting article about alternative energy of the Sun, water and air.