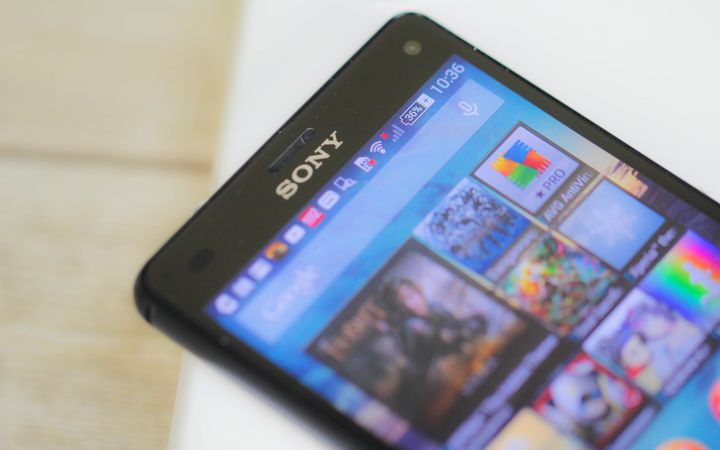 Today, people are divided into two categories: those hungry for devices with large screens, the second, remembering the commandments of Steve Jobs about the ideal diagonal smartphone, require manufacturers of small but powerful phone. At IFA 2014, Sony has satisfied the needs of all. The Japanese showed not only the new flagship Z3, but its smaller version of Z3 Compact, which differs from the "big brother" only dimensions (well, and even some small moments). If the review of the first you may have to watch / read on our website, with the second we meet now. Sit back!
To start propose to deal with the main differences between Z3 and Z3 Compact. They are not so much. It is clear that our today's hero is a little thrown off in size (64.9 x 127 x 8.6 mm to 72 x 146 x 7.3 mm) and weight (129 grams versus 152 grams). Z3 Compact is a little thicker, but it is logical. The battery installed in Z3 3,100 mAh, and Z3 Compact – 2600 mAh. RAM in the first case 3 GB available in the second to less than 1 GB – 2 GB. Because of the smaller diagonal Z3 Compact (4,6 inches versus 5.2 inches) fell and Resolution: Full HD with up to conventional HD. That's all. The rest of the devices are identical, that can not but rejoice.
Appearance – Sony Xperia Z3 Compact
Outwardly Sony Xperia Z3 is similar to previous models, so confused device with the decisions of other companies will be difficult. But it's for the better. I personally design solutions Japanese past few years like. For example, in our case, the smartphone has a very slim side frames (top and bottom, they are also quite small), so the 4.6-inch screen could be put into the body, which in size is much smaller than that of the competitors with the same diagonal display.
Above the screen there was a place for logo Sony, two sensors (light and proximity), front-facing camera and speaker. Moreover, the latter has a twin brother, who is already located below the display. You understand that the stereo in any device – it is always nice. By the way, about the sound. He is a very high quality and clean, but at maximum volume (This is particularly evident in games) starts right smartphone vibrate in his hands.
Exactly in the center of the right edge of the engineers placed the key power management, which is made in the best traditions of Sony – is round and silver. On versions in black (there is still red, light green and white) it looks very impressive. Below you can find volume rocker. She has two characteristics: it is small (in my Lumia 1520 lock button is the same size) and is too close to the above-mentioned key power management, so the first few days to avoid accidental presses do not. But then you get used. Two-position camera button is also present.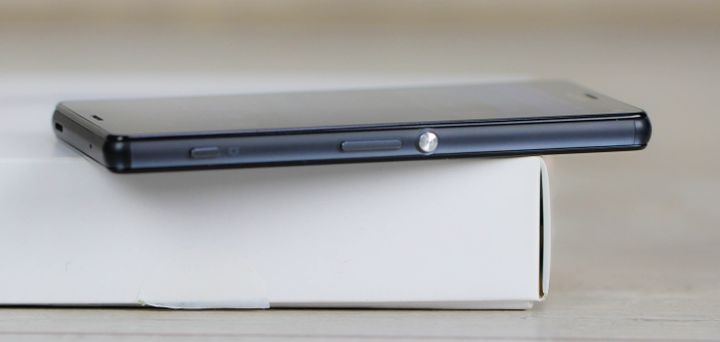 Left all hidden behind covers. Only dvuhpinovy connector for connection to a docking station in a prominent place. Under the top "zakryvashkoy" can be found microUSB connector and a memory card slot, and a bottom – tray for SIM-cards format Nano. Frankly, open the cover each time to charge your smartphone or transfer any data to your PC is not always convenient. Although security (standard IP 65/68) superfluous never happens. But HTC, as we all know, do not believe that plugs – a required parameter. Desire Eye, who is not afraid of water (IPX7), – a good example.
On the bottom of the microphone can be found in addition to more and place a strap, and on top – audio and another microphone. The rear panel, as the front is covered with protected glass. There you can find the logo Sony, the inscription «Xperia», icon «N», which indicates the location of the NFC-chip and, of course, the main eye of the camera and flash. The Japanese are very proud of their camera, so as to unobtrusively placed next to a note "20.7 MP".
In general, for the appearance, the build quality and materials of the device body can safely put a solid top five. No creaks or backlash. The only time – fingerprints. They can be seen very well. Although this problem in just a few seconds solves ordinary cloth. In the hands of Sony Xperia Z3 Compact is excellent. However, forced to admit that after my 6-inch Lumia 1520 was difficult to get used to.
Display
With diagonal display and a resolution we are sorted out at the very beginning of the review – 4.6-inch 1,280 x 720 pixels. Sense in Full HD here was not any, and the company did very well without becoming chase dry figures. HD is sufficient for such dimensions as to not see the individual pixels on the screen – 319 PPI. Management gloves provided, and supports up to 10 simultaneous touches.
With viewing angles, the maximum and minimum brightness, font readability everything is fine. The only thing to understand – the small screen (although a few years ago, a 4.6-inch smartphone seemed huge) is a small keyboard. Typing often push the wrong button. It would seem that this is also a matter of habit, but for me the test and failed prilovchilis.
Camera
The main camera has received 20.7 MP, and the front – 2.2 MP. In terms of software is pretty not bad (although, as we recall, was not always so, the company has made a significant step only in their most recent devices). There are many modes. It's funny just what the maximum quality (ie, 20 MP) can only be selected manually, but in other uses 8 MP. Although let's face it, for most everyday tasks that is enough. You can also shoot video in 4K and live broadcasts on YouTube. Bloggers, rejoice! More details about the possibilities of the camera told Julia in his review of the Xperia Z3.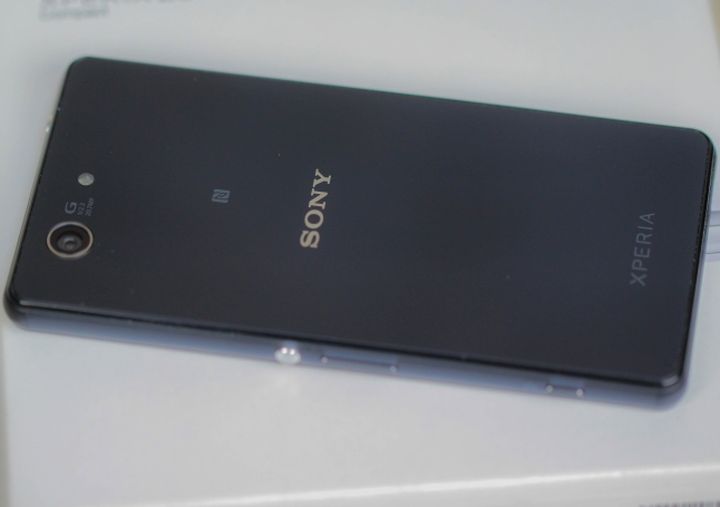 But as they say, better to see once than seven times to read (well, or something like that).
Image quality I was very pleased. Sony Xperia Z3 Compact – the case where a 20-megapixel (or even 8-megapixel) quality is not ashamed. Very often, what kind and many megapixels, and the pictures are such that even in Instagram with one subscriber to download hand is not raised. But in this case is not so. The camera is good. I would even say that it is very good.
Features & Software
Sony Xperia Z3 Compact – a true flagship! Here you and Snapdragon 801 (4 core Krait 400, 2.5 GHz), 2 GB of RAM (we have seen that in the Z3 has 3 GB of RAM), and graphics accelerator Adreno 330. With games and other demanding tasks smartphone copes perfectly well. This is to be expected, because this "iron" paired with a very high resolution is not capable of much. Asphalt 6 runs with maximum graphics and Dead Trigger 2, despite the average parameters, even in dynamic scenes (where everything explodes, and you run hundreds of zombies) does not slow. In various tests also showed himself smartphone with the best hand: 45,000 in AnTuTu, 20 thousand in the Quadrant and 19,000 in 3DMark. For all the testing device I have not noticed any flaws even in normal flipping desktops (although rather, the point is properly optimized proprietary shell). The operating system it uses Android (oh, what a surprise!) Version 4.4.4.

With regard to internal memory, then it is 16 GB. It also supports microSD card capacity up to 128GB. But autonomy – generally a separate conversation. Smartphone Sony – clearly one of the best on this indicator. The thing is that the manufacturer has installed in such a compact body battery capacity of 2600 mAh. For example, the same battery is installed in the HTC One (M8), but already there is a screen Full HD. If we talk about the time "life" Xperia Z3 Compact, a half or even two days stretch device. This is when normal use (social networks, e-mail, a little YouTube, calls, reader). If you squeeze all the juice out of the phone (play continuously games, watch movies and all that), the charge will last hours on 10. In the settings there is also a mode STAMINA, which will make the Z3 Compact immortal. For example, if 32 percent of the program promises to 7 hours of battery operation, and activation energy saving, this figure increases to some incredible performance – 1 day, 16 hours!
In summary – Sony Xperia Z3 Compact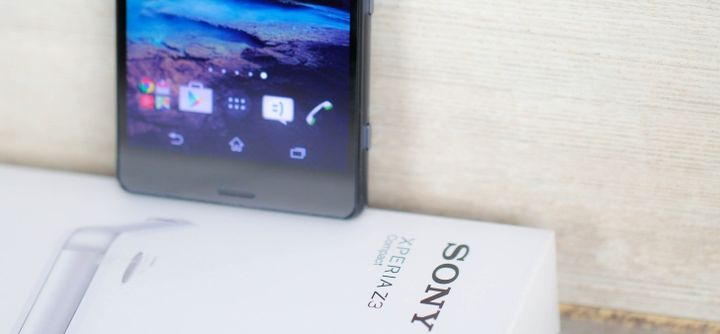 Positioning the phone is fully explains its name. Sony Xperia Z3 Compact – it's not a mini-version of the Xperia Z3 with simplified features, but just its compact version. Before us is a true flagship in a small package. Controversial issues it has very little. You can only find fault with the keys on the right side (too close they are) and price. If the amount of $ 490 sounds more acceptable, that's 13 thousand hryvnia or 32 thousand rubles – this is a bit too much (but the company is unlikely to do something to help buyers). The rest of the smartphone I liked: quality camera, good screen, beautiful appearance, powerful "filling" and long life on a single charge. If you want to get the last few years about the flagship device with a small screen, the Xperia Z3 Compact may be almost the only viable option.
Source: SonyMobile
Read another very interesting article about alternative energy of the Sun, water and air.