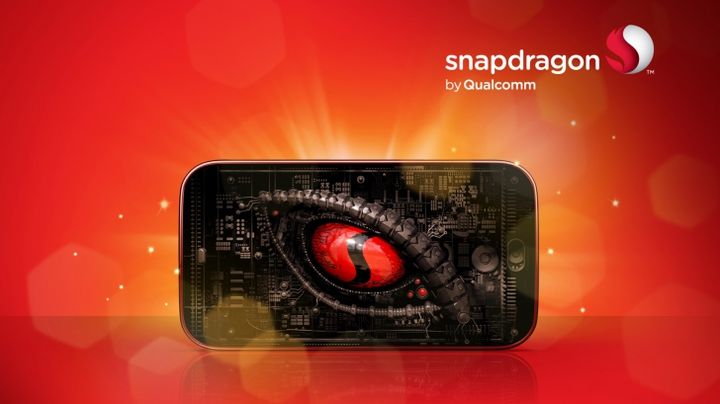 The last few years, Samsung launches its flagship phone in two versions – one with its own production Exynos processor 7 Octa, and the second on the other chip firms tend, Qualcomm. This year was no exception, so the Galaxy Note 4 can be found on sale with a quad or eight-core Snapdragon 805 vs Exynos 7 Octa. Usually the platform depends on the market – in the United States offer a model with Exynos on board, and in Europe, Asia and Latin America – Snapdragon.
On paper, the differences between the two chips are very significant. Snapdragon 805 operates on four cores, whereas, as Exynos 7 Octa  has at its disposal 8 cores (4 + 4, which can operate simultaneously, if necessary). On the other hand, in the case of Snapdragon 805 talking about work on a much higher frequencies – up to 2.7 GHz and  Exynos 7 Octa maximum "speed" below – 4 cores at 1.9 GHz and 4 core – 1.3 GHz . But we, like real geeks, understand that this is just the tip of the iceberg. For example, these two solutions include completely different graphics accelerators: Snapdragon – Adreno 420, Exynos – Mali T760. In principle, the chip and Samsung, and Qualcomm chip supports QHD-screen, OpenGL ES 3.1 and Direct3D 11.1.
Snapdragon 805 vs Exynos 7 Octa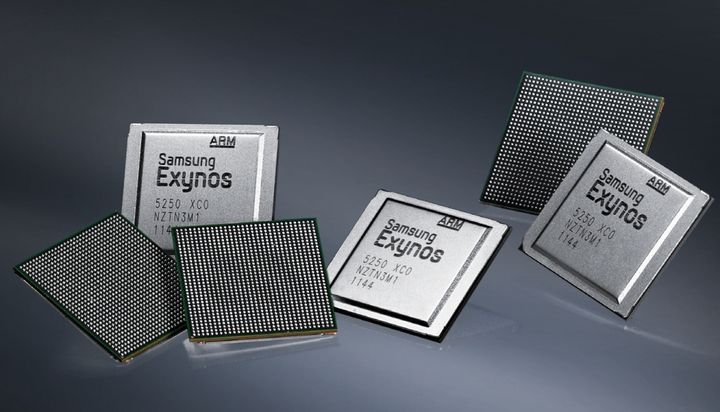 Differences really a lot, so the experts site Phone Arena decided to dot the "i" and decided to compare the two chips in 8 tests. They set a goal to compare the processing power, graphics capabilities, data rate, work on the Internet and other moments.
Tests CPU
It's safe to say that the chips Snapdragon 805 vs Exynos 7 Octa equipped with powerful processors. Determine which one is better – a little harder. But, judging by the tests, it is Samsung's decision is forging ahead. Program Vellamo, Geekbench, Basemark and PC Mark gives a higher estimate is  Exynos 7 Octa. But AnTuTu more liked processor Qualcomm; Snapdragon 805 here was above estimates virtually all Microtest.
Tests graphics
But in this case, Snapdragon 805 in all tests bypassed Exynos 7 Octa. In principle, the only indicator where Samsung processor solution turned out to be on a par with Qualcomm – is a 2D graphics.
Memory Tests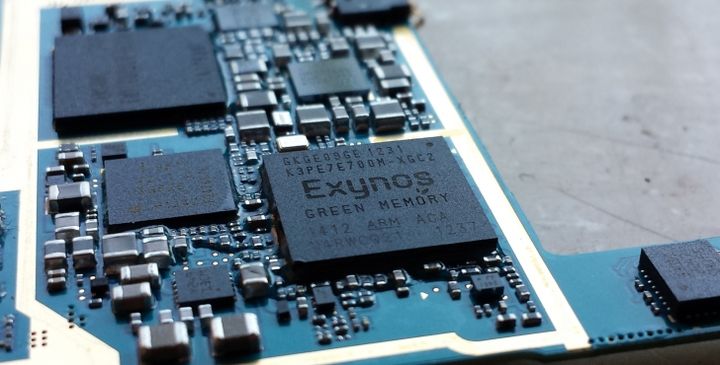 RAM shows good results in all versions of Samsung Galaxy Note 4 (and Snapdragon 805 vs Exynos 7 Octa), but still own development Koreans proved to be more "brisk". With respect to data storage, the results of its testing were approximately the same in both cases.
Tests "Web"
When it comes to web browsing, the situation becomes very confusing. Vellamo gives a higher score  Exynos 7 Octa, and the HTML5 test in AnTuTu indicating the superiority of design Samsung. But Basemark and SunSpide give preference Snapdragon 805.
In summary
What a version of Samsung Galaxy Note 4 better has a faster platform? Both solutions are certainly very good, but it turned out that the model Exynos leader in terms of performance and memory. In fact, it may mean a more rapid and stable operation of applications. Models with preinstalled Qualcomm chip can boast high levels of graphics (gaming device?). The result is that Samsung has equipped its flagship Galaxy Note 4 really cool "stuffing". The owners of this smartphone can be sure that in any case they got a top device with high performance.
Read another very interesting article about alternative energy of the Sun, water and air.