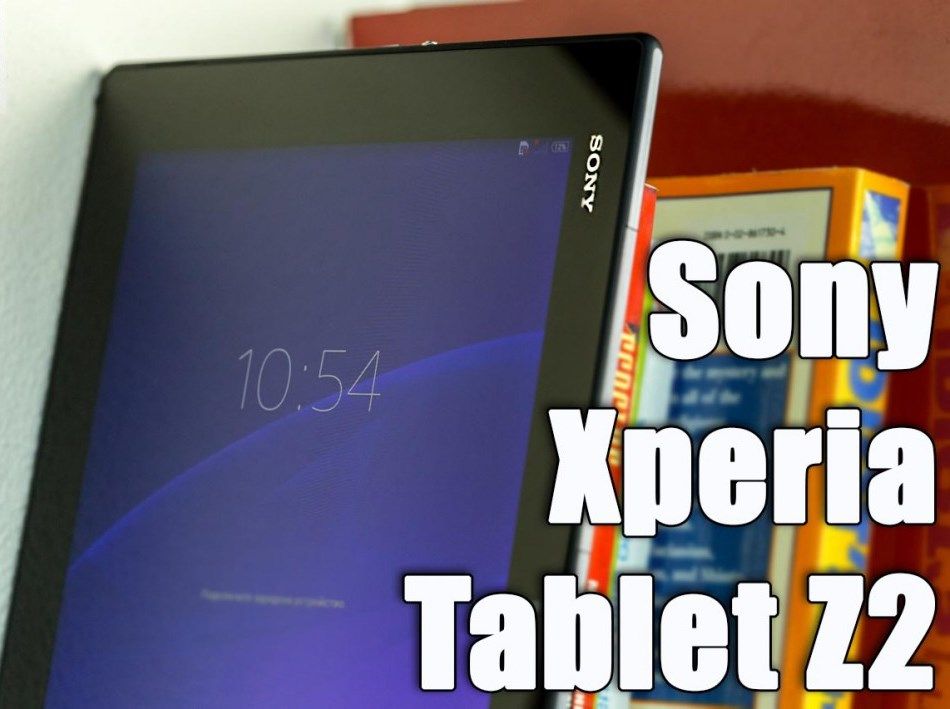 In the tablet had no future, while about them in a loud voice said not Apple. Since then a lot has happened, but what would a tablet out or coming out, one way or another it will sooner or later, compared with the iPad. Our guinea compared with iPad Air is not just. It is the "air" tablet called the most easy and graceful until Sony Xperia Tablet Z2. Now we have got a huge 10.1-inch tablet with protection against dust and water, which has earned the title of the thinnest and lightest tablet of all. Impressive?
Sony Xperia Tablet Z1 was named the best tablet in Europe. It is not very sour start. Planck was from the outset Zadran high. Reviews about it girls filmed in the bathroom, men bathed him in the river, on the whole, he liked everything. Although both have something to complain about – the rigidity of the device, for example, left much to be desired. And here at the IFA 2014 in Barcelona presented the continuation of this beauty, calling it a Sony Xperia Tablet Z2. And what they did?
Design and ergonomics – Sony Xperia Tablet Z2
Tablet at a glance resembles a plasma TV ideal size if you are going to carry it in a backpack. University or thin notebook for all subjects. He almost A4 and easily lost among the papers, folders and books. I especially like the fact that despite the dominance of the tablet market, Tab Z2 anyone of them do not like. He is strict, conservative, straight lines, sharp angles, combined with a perfect flagship smartphone Z2.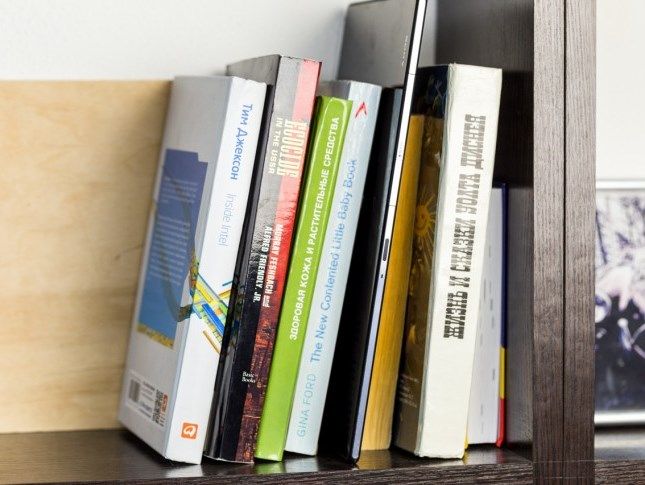 Slim, lightweight and elegant – I do not get tired of repeating it, it seems, never. Because everyone who has ever picked up a tablet, much surprised that he weighs practically nothing. It seems that the Japanese inspired piece of paper.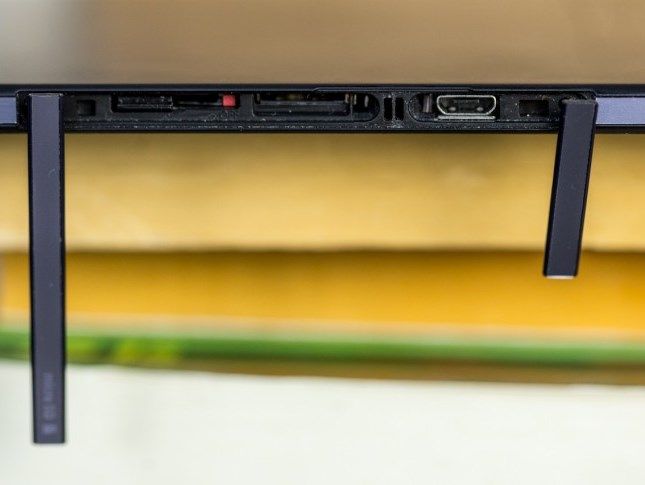 Look there is something to. Verge and covered with a variety of ports, connectors and buttons. Top – the two plugs. Under the first long are slots for micro-SIM card and microSD, under the second – a slot for microUSB. Actually, these are the two topics that should be stored in dry times, otherwise the tablet will simply stop working.
On the right side did not put, and at the bottom there is a docking station for connecting sensors and audio.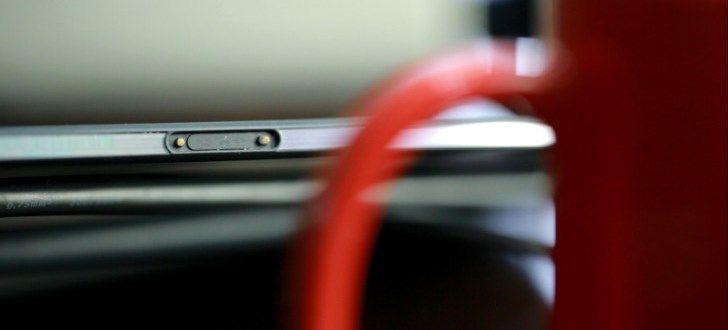 On the left side – the volume key and a small lock button. Since the functions unlock double tapom not find, get used to her miniature and location. It's not as difficult as it may seem at first glance.
The front part is completely covered with a protective tempered glass, and back – Soft-touch softtach-plastic. He has a plus and a minus. Plus – the tactile sensation. Pleasant and tenacious. Less – Mark. Very easily soiled. And to scrub it, you have to put a lot of effort.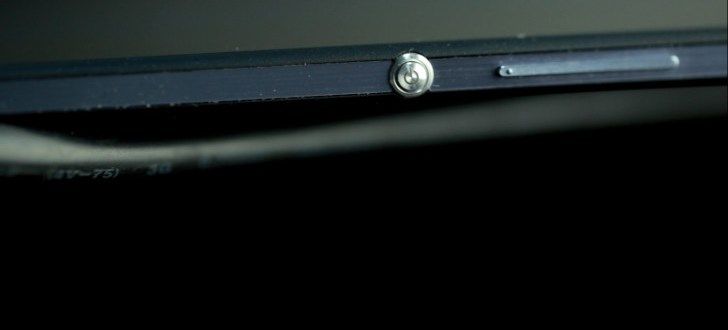 On the cover of this artwork housed Sony, below – Xperia, and in the upper right corner – the eye of the main chamber is 8.1 MP and underneath the icon NFC.
On the top frame around the display is located company logo, front camera is 2.2 MP and indicator events.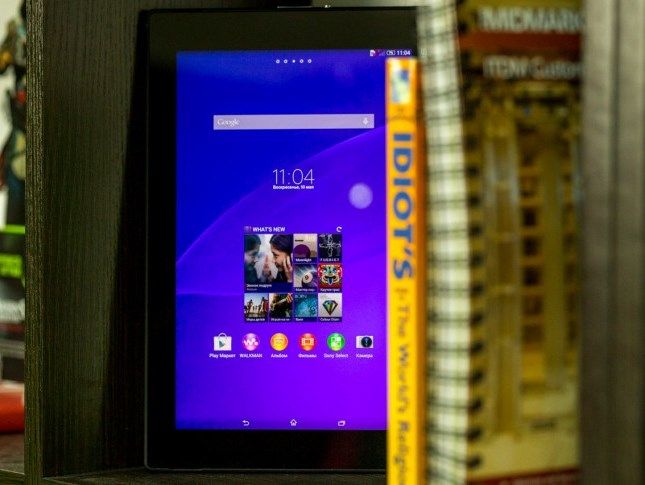 You understand that in such a small handbag pandora not fit. It is not any magic to push in the clutch. So your a girl who demand portability, small handbags and small dogs, this tablet can not come on the soul and will be on the bedside table. Everyone else who is not steamed, and walks with a backpack and a bag more, the tablet will be convenient to use. Due to the parameters it is perfectly positioned in the department for a notebook instead of a laptop, also weighs in two or even three or four times lighter than your laptop. And due to the parameters and "smart" keyboard Sony Xperia Tab Z2 can easily replace it if you certainly do not want to load it as a gaming laptop. I was not a fan of tablets can safely say that the 10-inch device as an intermediate between a smartphone and a computer – is most logical to use the tablet.
Display – Sony Xperia Tablet Z2
At first glance, the screen seems to be very steep. 10.1-inch capacitive IPS-display with TRILUMINOS with excellent oleophobic coating. And then you find out that he is also in a glossy finish. And that permission had enough strange – 1920 x 1200 and that the maximum brightness of the sun is not enough comfortable. That is the text readable, but when we were shooting video review, through the lens to be seen nothing at all.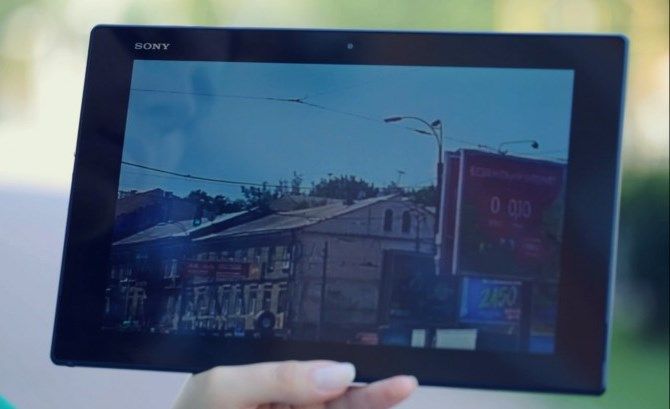 But in the room of the display good viewing angles, brightness is sufficient, juiciness and contrast of the picture at a decent level. Sitting in a room with normal lighting, watch a movie on such a display – the buzz. The only thing that angled slightly white color turns pink, from a different angle slightly yellow – that he was so unpredictable.
Huge at first glance frame actually perfect size if you tablet still will use and not bought to it beautifully in the docking station stood. Such a big plate hardly sold for mobility rather for practicality. Therefore, a framework needs to have to put your hands. With such a wide tablet manage comfortably in either a horizontal or vertical orientation. Just virtual buttons still "eat" part of the display … And thanks to the dark squares tablet may recall a frame for photos. But this is a subjective question accurately.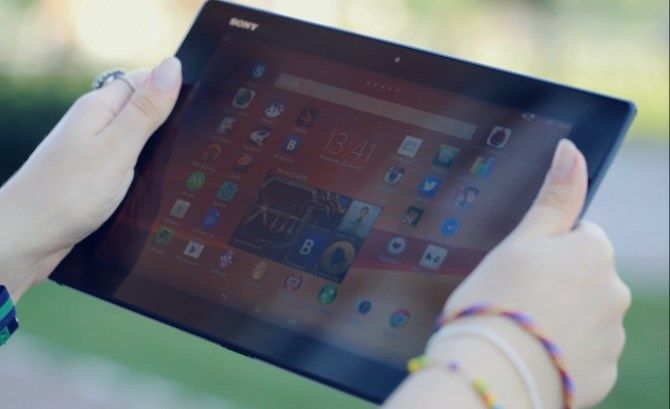 But one advantage over the last tablet just is – in Sony Xperia Tablet Z2 missing plenochki! That is, developers finally came to the realization that safety glass does not need a branded protective films that just do not you take off, even if you really want. Excellent tempered glass with oleophobic coating. That's a beauty! For word processing, surfing the Internet and watching movies – perfect. But if you want to see something on the display in direct sunlight, do not forget to take off the sunglasses, but rather look for shade.
Camera  – Sony Xperia Tablet Z2
Two of them, and they are quite good quality. If you do not have a bad habit to compare camera smartphones and tablets. The main camera has 8.1 MP and a bunch of useful and not software. The camera is able to shoot panoramas, HDR-photo and video, conduct serials shooting has 8x digital zoom and LED backlight. Frames are very bad quality, but with details of problems. Yes and artificial lighting is poor or the resulting image will not get you excited.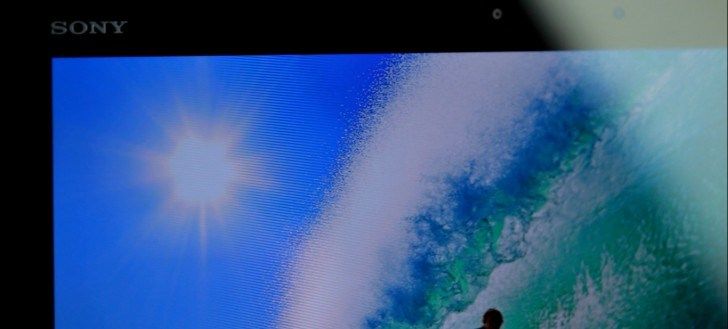 In the menu there are already nine shooting modes: super cars, manual settings, background defocusing, fabulous effects of art, timeshift butst (when you have the opportunity to choose the best shot of taken before and after pressing the shutter), social life (for people who permanent post photos to Facebook and there they want to share with friends), and a panoramic view of evernote, with which pictures can be saved in your account.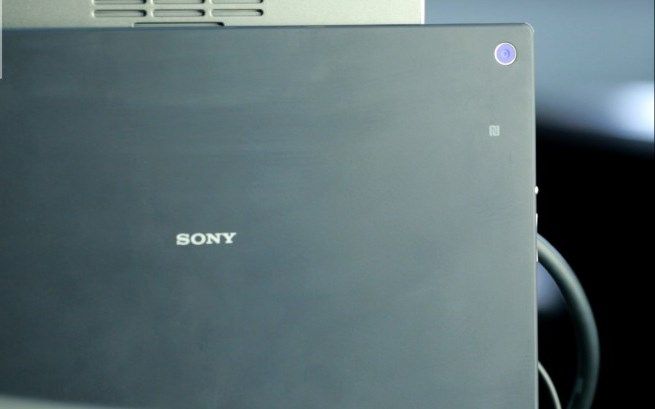 A single button to start the camera does not have, but this feature is available from the screen to unlock it. In the lower left corner you will find a small menu where you can choose the resolution and aspect ratio shooting. Above it is an icon to switch to the front camera, which was 2.2 MP. Expect something extraordinary from it is not worth it. Is a function of "cleansing" of the face, which is usually called "smoothing".
The main problem that I personally have emerged with cameras – is the size of the tablet. That's such a huge pill to photograph very uncomfortable. It was at this moment it seems that the tablet is bulky, it turns out that the concert you all close your review and look at you with surprise and disapproval. If two aspects – the convenience and attitude of others – you do not soar, feel free to take pictures of everything.
Sound – Sony Xperia Tablet Z2
Speakers are placed profitable. They are small, from the first time I have not found, it seems that the sound is coming from somewhere inside. In fact it is two short stereo speakers, which are located below the display.
But given the fact that when watching a video you hold the tablet with two hands, I often turned the tablet, and the speaker is located on top of the fingers. Adequate volume, the purity of the average, and in general, if you forget the headphones at home and want to watch the show with sound, the sound of the speakers will not disappoint you. In nature or in recreational areas be heard well.
Specifications – Sony Xperia Tablet Z2
Four core Krait 400 processor Qualcomm Snapdragon MSM8974-AB c 2.3 GHz, Adreno 330 graphics and 3 GB of RAM. In tests, the tablet is ahead of the rest, this and hoping when you pay such denzhischi for this iron. All the toys are on the highest setting, looks beautiful. Interface responds instantly, smooth animation, and it looks quite nice. And in general, well, what to say, if all is well? At maximum loads tablet yet heated, a little closer to the left side in the middle. And so, yes, the speed of the device cool. This tremendous pluses device. The tablet does not slow down and fly right.
Software – Sony Xperia Tablet Z2
The Sony Xperia Tablet Z2 is running Android 4.4 KitKat. Firmware from Sony – always an amateur. Appearance of flying waves, o-oh. Opinion subjective, private, there are people who all look like this. But! I repeat not the first time – the number of pre-installed software on the move such that devices of this company I am less likely to sit PlayMarkete.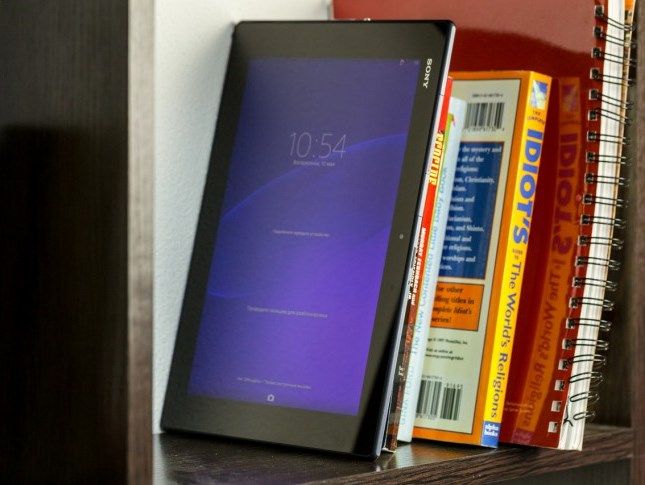 Here at once and all the popular social networks, a folder with the tools, navigation branded news from Sociallife, SonySelect and Whats New, where the company recommends interesting applications, TrackID, remote control home appliances via IR, Smart Connect, which helps skonektit and tablet devices one touch. In general, a lot of useful, but also a lot of nonsense that clogs memory. A further 16 GB tablet is available on the move about 11 GB. There is also a variation on the 32 GB. Whichever option you choose, it is always possible to install up to 64 GB microSD.
Protection – Sony Xperia Tablet Z2
It became de rigueur for flagship Sony Xperia Tablet Z2. And if you ever protection against water and dust perceived as something that adds great things about the device, but now it is so in the nature of things, that the lack of function causes resentment and confusion. Housing is protected against water and dust to standards IP 55/58. That is, you can easily lie on the sandy beach near the river or the pool without fear of sand.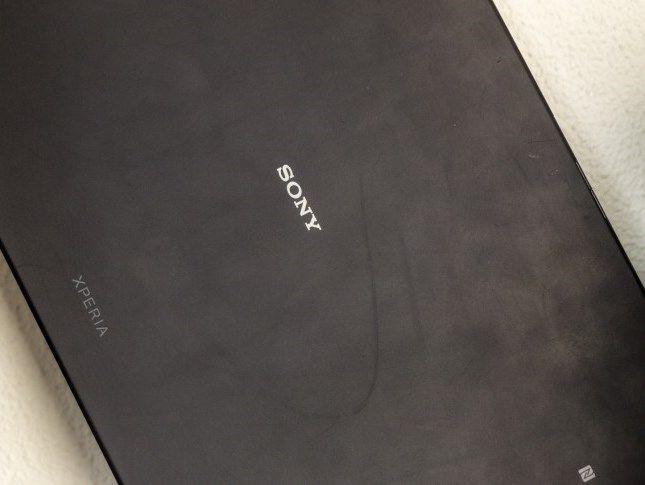 And if you hunt with the tablet for a swim, then it can be done for 30 minutes in fresh water to a depth of 1.5 meters, and only if all caps are closed. There are only two, so bother to check that they are tightly corked. Otherwise, there is no guarantee the device will not save.
Autonomy – Sony Xperia Tablet Z2
Removable battery 6000 mAh first mesmerizing numbers, but in reality it is fairly trivial. In principle, it is easy to replace a workstation, office day and night, even if you are the more hardvorkzadrot, he maintains. If you have a day of sloth, and you stay in bed for days, then on the series and online kinoshki this Sony Xperia Tablet Z2 enough hours 10 And if content is downloaded, then 13-14 hours.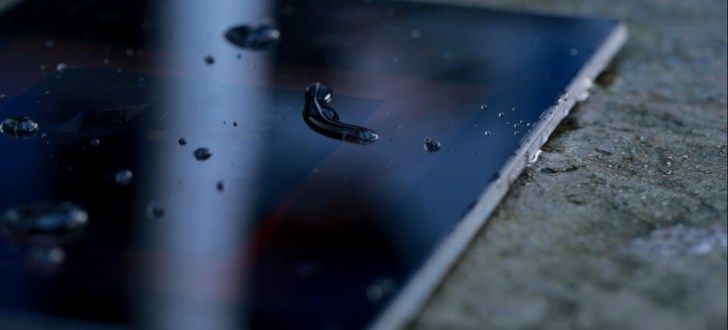 Next will have to hang up the Sony Xperia Tablet Z2 on a cord. But I warn you that the device from the wall outlet will charge about 5 hours That is, he is charged exactly half of the time, which then otpashet at maximum settings online. But if you listen to music from your tablet, the tablet otpahat here so long that you can on the airplane to fly around the Earth at the equator, and he will not sit down. And once it was 74 minutes of Beethoven's Ninth Symphony, now this figure rose to exorbitant heights.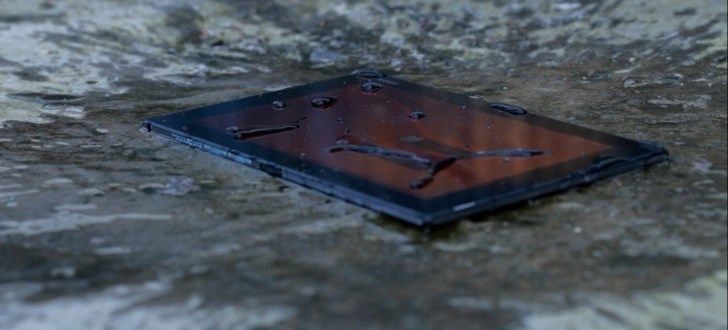 If you want to reduce the charging time and not sit waiting at the outlet, the docking station to help you. Not only that, it can at least put on the window sill and all day stick video on youtube, at the same time, the tablet will be charged, and the station will be a penny wireless bluetooth speakers.
And even on calls to answer, if the installed SIM card you do not have to clean 3g. Looks like a modern boxing and intimidating, a kind of black box with space for tablets and costs a lot. But the functionality of more than enough!
Conclusion – Sony Xperia Tablet Z2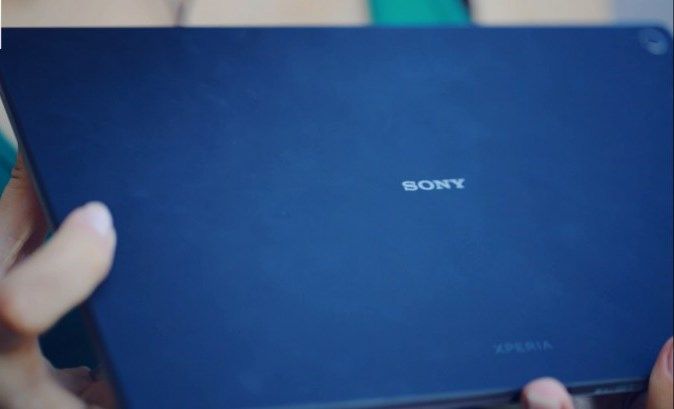 I liked the Sony Xperia Tablet Z2. Could be lazy and do not carry it every day in the office and from the office ultrabook behind. A tablet is so light, so beautiful. Pulled it out a few times out of a backpack in public transport and caught the first surprised and then concerned looks. Sony Xperia Tablet Z2 – stylish tablet, not argue with that. Beautiful, easy, practical. There is even the sim card can be set to get combos, in which one tablet vs. smartphone-tablet-ultrabook. And if common sense still tells you that he is too big for the dialer, I will prompt that the set includes a headset. And Sony has in store many different good headphones.
Actually, smutitelnyh moments in the office, I found a few. The first – Mark coating the rear surface. To cope with it can only use the spray, cloth and inhuman patience. Second – assembly. This is generally a weak point of the company. Not the first device in a row. It's frustrating. Third – the display. It is largely good, but strange resolution and high-gloss finish. In the light, the tablet works great mirror. Images and text readable, but would like a little more vivid images. And the last – autonomy. Can not say that it is bad, no, just the perfect something wanted. To and protection, and the subtlety and lightness, and the charge held indefinitely.
Read another very interesting article about alternative energy of the Sun, water and air.