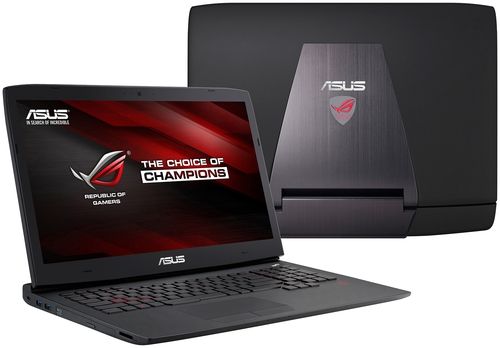 For by NVIDIA hard to keep up with even the eminent world manufacturers of gaming notebooks, it like hotcakes release their new video card. For one only in 2014 the world saw just two generations of video cards in the spring – 800-th series, and then fall – 900 th. But the company ASUS has responded promptly to all of these events, at first just to upgrade the interior of your notebook, and only then, in the fall, presenting the world completely new line of Series G. On one of these devices, which received the new video card from NVIDIA, as well as the futuristic design and will be discussed in this review. Meet – ASUS G751JT.
For all the years of its existence, the game lineup ASUS ROG G-series managed to create an army of loyal fans, both among professional gamers, and among the amateurs who simply love to relax with a favorite game in his spare time. But at the same time and they both want to see a high-quality picture and high fps. In our case, this is called a discrete graphics card NVIDIA GeForce GTX 970M and quad-core Intel Core i7-4710HQ. In a very hard-fought and close fight with their competitors – by MSI and Dell (Alienware), ASUS has managed to bring the quality and functionality of your laptop to almost ideal. Let's see if the new generation has become even better or a "step" on the spot?
Design – ASUS G751JT
The notebook in comparison to its predecessor, has become more "toy". If ASUS G750 looked subdued and representation, and it was possible to select only brushed aluminum and painted in light gray tubes, but now the situation has changed. The new model is immediately striking bright red elements, including: ROG logo on the top cover and podladonnoy surface, marking the keyboard and, of course, "petals" in the nozzles of the ventilation system. Incidentally form themselves vents also changed.
In addition to the abundance of red, which, incidentally, looks very harmoniously combined with black matte finish can also select to change the design lid. Now the major part of which is made from a soft-touch plastic cover was put on top of aluminum. It is a trapezoid, which descends to the loops and then comes to the bottom of the notebook. Outwardly, this design element reminiscent of the car "hood". This item performs not only a purely decorative role, but also provides the rigidity of the cover. By the way, the whole assembly of the notebook is quite high, however, is characteristic of the G-series from ASUS.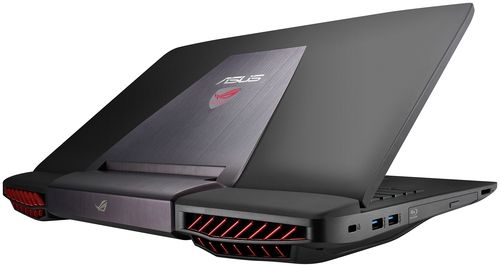 Besides lining on the lid, all the rest of the ASUS G751JT made of plastic with a soft-touch coating. Only gripe is the internal working surface, because it was the last model made of aluminum, which, though collecting fingerprints, but was cleaned quite easily. Now, soft-touch coating in this zone collects fingerprints no worse than aluminum, but remove them is not so simple.
The bottom of the laptop can not be called ordinary. First of all I would like to highlight the multi-level, unlike most laptops, ASUS G751JT boasts relief ducts that if an athlete muscles show through to the bottom and go to the back edge. Also deserve attention-leg braces, which look very impressive, and its function is performed by 100%. Among other things, on the bottom, you can see small holes for cooling and a subwoofer, which is covered by a decorative grid. Not without its usual slot for quick access compartment models, but, unfortunately, it can be reached by only two drive bays and two strips of RAM. Why unfortunately? – Yes, because to get to another two strips of RAM, cooling fan and wireless module can only be completely disassembled the laptop that not everyone on the shoulder, and even people who know it will take a lot of time.
All representatives of the flagship G-series such as G75, G750 and other earlier models had a fairly large size and weight. In this regard, a new generation has decided to continue this tradition. ASUS G751JT has dimensions 416x318x20-53 mm and weight of 4.8 kg. Our test model almost pounds heavier than its direct competitor MSI GT72 last generation, which weighs 3.8 kg, but in the world of gaming "monsters" weight and dimensions are not so important as an effective cooling and performance in games.
Display, sound and webcam
Display ASUS G751JT is typical for most game models diagonal 17.3 inches, and the standard for this size resolution – 1920×1080 pixels, or as it is often called, Full HD. Watch a movie or play on the 17.3-inch screen is much nicer than say on the 15.6-inch, and thanks to the high resolution, you will not see the grain.
Huge leap forward can be called that engineers finally began to equip slot model matrix made by technology IPS, rather than TN. Firstly, IPS technology provides a wider viewing angles, which increases comfort while working at his laptop. Secondly, the difference in response time between IPS and TN is becoming less and less so for games, this figure is not so critical. Therefore, ASUS G751JT we have excellent viewing angles and excellent image quality is through the use of IPS-panel.
This display is virtually devoid of drawbacks, the main diagonal, high resolution and excellent image quality is added and a matte finish that reduces glare and reflections with direct sunlight.
Do not disappoint the owner ASUS G751JT and installed it acoustics. Two speakers are pretty high volume and good sound quality, however, notice a slight bias in favor of the midrange, but it is peculiar to all notebook acoustics. In addition to the speakers on the bottom of the ASUS G751JT there is a built-in subwoofer, responsible for the reproduction of low frequencies. In general, the data published by the laptop is perfect for scoring games and movies, as well as for the full listening to music.
Webcam with a resolution of 1 megapixel is perhaps the most ordinary element of this laptop, it does not differ from cameras located in the low-end models and is, first and foremost, to communicate via Skype.
Keyboard and Touchpad – ASUS G751JT
Strict and minimalist keyboard ASUS G750 in the past. New ASUS G751JT equipped with a large and functional keyboard, but with a new design and some new elements. Engineers make maximum use of the internal workspace ASUS G751JT, so here we see a large distance between the keys analog and digital blocks. Last specifically displaced by the way down to the buttons were normal, not narrow size.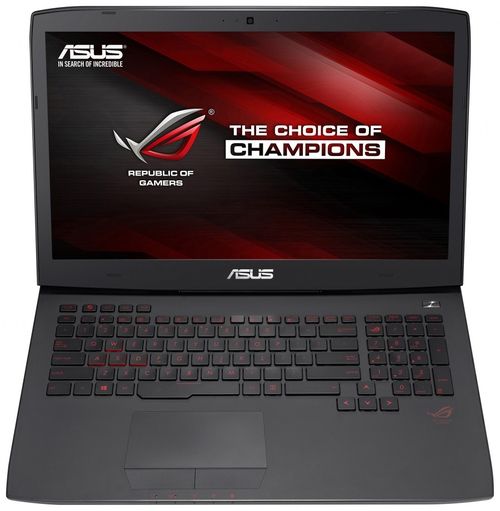 The keys are square, flat, have a good read coded letters, which is made in red and green and white markings Cyrillic. The key travel is quite large, and the return on average power. Separately want to note the increase in the left side of the space bar to make it easier for the player to get it and use it in games very often, whether it's a jump or a manual brake.
You also can not ignore the key [W], [A], [S], [D]. They further highlighted in red on the sides to make it easier to find them. The way to play in the dark, in the ASUS G751JT provided backlit keyboard. Unlike its predecessor, the new generation does not it glows white and red that keeps the overall design line.
Appeared in ASUS G751JT and individual media keys, all five of them, and they are located above the keyboard on the left. Among them there are: the start key applications NVIDIA GeForce Experience, which offers automatically set the most appropriate for your system settings in the games start button Steam, providing access to an online game store, and three separate numbered buttons which can be assigned to start applications using a utility ROG MacroKey. The power button is right above the keyboard and she made silver to be different from others.
The touchpad is quite large, however, as its predecessor. However, for a gaming notebook is not such a big advantage, since it is likely to give way to an external mouse. If it so happened that you still have to use the touch-sensitive surface to control the laptop, it will not disappoint you, thanks to the precise positioning and support of a large number of multi-touch gestures.
Performance
ASUS G751JT (90NB06M1-M00380) is running the operating system Windows 8.1 (64-bit). As the processor uses Quad Intel Core i7-4710HQ. This processor is still familiar to us over the past generation ASUS G-series, and had proved themselves very well for heavy applications and for modern games, many of which require high performance not only on the video card, but also from the processor. Most of all it relates to online games. Among the technical characteristics include the clock frequency, which ranges from 2.5 GHz to 3.5 GHz, 6 MB cache in the third level and support Turbo Boost technology and Hyper-Threading. Thanks to the latter, four cores of the processor can handle up to eight data streams.
But no matter how powerful the processor was, after all, the main role in the game is given a laptop graphics card. In ASUS G751JT installed discrete graphics NVIDIA GeForce GTX 970M, is the average of all the option available in the range of laptops ASUS G750, except ours, also have the option to buy a laptop with top-end NVIDIA GeForce GTX 980M or more affordable NVIDIA GeForce GTX 860M. Let's start with the fact that the NVIDIA GeForce GTX 970M is based on the architecture and Maxwell made on 28-nm process technology. The memory interface has a bandwidth of 192-bits (bits 3h64). The total number of shaders is 1280, and the core clock speed – from 924 MHz to 1038 MHz. NVIDIA GeForce GTX 970M has 3 GB of video memory standard GDDR5.
In ASUS G751JT has four slots for RAM, of which our equipment employs three. All trims size to 8 GB DDR3 memory and work with a frequency of 1600 MHz. Thus, in our laptop out of a maximum of 32 GB to 24 GB installed, which, however, with the head enough for any application or game.
Well thought out in the ASUS G751JT and system drives. Through the use of the hard drive and SSD achieved the perfect balance between capacity and performance. The hard disk has a capacity of 1 TB, and the rotation speed of 7200 rev / min. SSD is much more modest in scope than HDD – only 128 GB, but it is, it provides excellent performance and operational loading.
Ports and Communications
A set of ports and connections remained virtually unchanged compared to the previous generation. Add only one additional audio jack. But let us, nevertheless, consider the set of communications and their arrangement in more detail.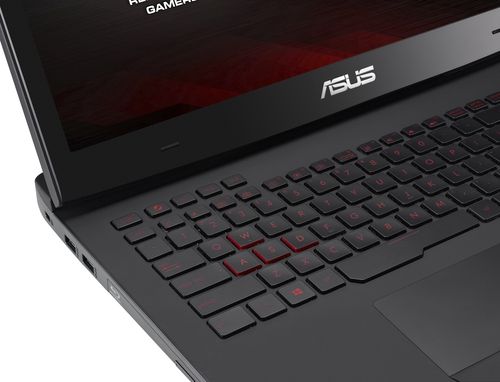 The left side ASUS G751JT are two ports USB 3.0, card reader (SD / MMC) and a slot for a Kensington lock. In addition, here you can see the optical drive DVD ± RW, which is more expensive versions can be replaced by Blu-ray. Also worth noting is that the location of the optical drive on the left side is very rare, usually located on the right side, but ASUS decided that it would be more convenient. However, the previous generation also had this, in our opinion, the lack of. The fact that the optical drive on the right side is not so much interfere with the external arm, than devices and cables connected to the ports. Admittedly this is only true for right-handers.
The main carrier of the ports in this laptop is the right side. Here you can find the video outputs HDMI and VGA, two-port USB 3.0, RJ-45 port high-speed Thunderbolt, the power supply connector, microphone input, and two headphone jacks, which are combined with audio output S / PDIF.
The front face, though devoid of communication, but on it there are five indicators of the state of the system.
At the same rear nozzle housed massive ventilation system. For wireless technologies there no complaints, all of the latest technology – Wi-Fi 802.11ac and Bluetooth 4.0.
In general, communication capabilities ASUS G751JT can be evaluated on a solid four, as we have a sufficient number of ports and their variety, but still in some aspects ASUS G751JT plays all the same MSI GT72, which is 2 more USB ports. In addition, the placement of the optical drive on the left does not improve the comfort of working with an external mouse.
Battery
8-cell lithium-ion battery capacity of 6000 mAh provides ASUS G751JT low rates of autonomous operating time, which is typical gaming laptop. In the game mode, this laptop can last a little more than one hour. When watching a video or surf the web, this figure will be around three hours.
Conclusion – ASUS G751JT
We saw a really updated model, and not just cosmetically retouched last year's laptop. ASUS G751JT rightly included in the cohort of the most successful and productive game models top segment. Of the most striking changes is to provide the appearance, which, incidentally, may not appeal to all lovers of the G-series, high-quality IPS-display, and a new video card from NVIDIA. Also it should be noted very comfortable full-size keyboard island, which has got some "chips" like dedicated keys [W], [A], [S], [D] and figure space.
Of the weaknesses ASUS G751JT comes to mind only the set of ports, which, though rich, but still inferior competitors. Large size and short battery life called flaws in the game model of this level is ridiculous, so perhaps it's ports, though not explicit, but still a weak point. Therefore, summing up we can say that ASUS G751JT in any case not a step back and a leap forward!
As already noted in the review, ASUS G751JT is a middle ground between version available with NVIDIA GeForce GTX 860M and a top with NVIDIA GeForce GTX 980M, respectively, the price of our version also average – about $ 1,800 for that segment of the game is not so much money.
Source: ASUS
Read another very interesting article about alternative energy of the Sun, water and air.