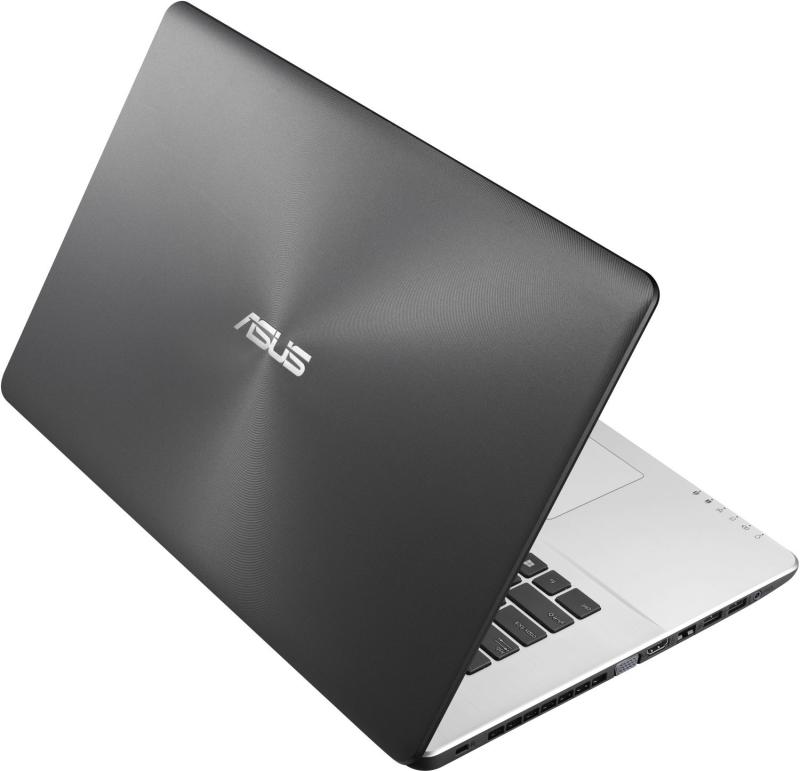 Recently, the world famous company introduced a new line of Asus K. It includes a 17.3-inch multimedia notebook designed for home use. One such device is the ASUS K750JA. Today, we just go on the computer.
Design
ASUS K750JA is a fairly large laptop. The thickness of our computer is 37 mm, and its weight is 3.1 kg. However, he has a 17-inch diagonal screen, which makes it not too comfortable handling.
ASUS K750JA design in classic style for the company ASUS. The peculiarity of this style is the colors, design details and collection of materials. Thus, the laptop lid is made of polished aluminum, and has a black coloring. This solution protects the surface of the oily residue, fingerprints, and also from accidental damage.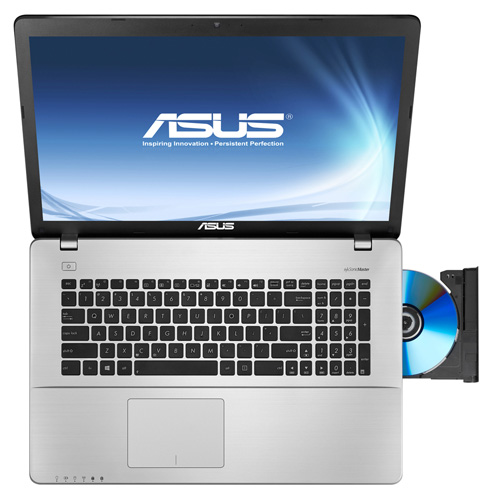 The operating panel is made of silver aluminum, which is very favorably combined with black keys and the frame of the monitor. The frame is made of black plastic. The bottom part of the laptop is also plastic. In this case, ASUS picked up quite strong materials that do not bend under pressure and do not allow any fragility.
Input Devices
Due to its size ASUS K750JA has a rather large and comfortable keyboard island type. The keys have a middle course, and quite elastic rebound, allowing to work with the text on the ASUS K750JA quite nicely. Also worth noting is rather large size of the keys and a generous plate for the hands, which makes the work even more comfortable with the text. In this case, the operation panel ASUS K750JA has a pretty big field, and also equipped with optional key block. Through the use of rigid materials operation panel does not flex during printing and creates a sturdy impression.
Touchpad for ASUS K750JA is large-sized, slightly matte finish, providing the necessary grip and silver coloring, in harmony with the overall design of the laptop. Also, the touchpad no physical buttons that look a bit old fashioned in today's laptop. The touchpad know new multitouch gestures that are required for operation without an optical mouse.
As we said earlier, the diagonal of the monitor ASUS K750JA is 17.3 inches. The indicator of the screen resolution is 1600×900 pixels. Such permission is not too high for such a marker display, although it will be quite sufficient for performing a variety of entertainment tasks, such as playing games and watching movies.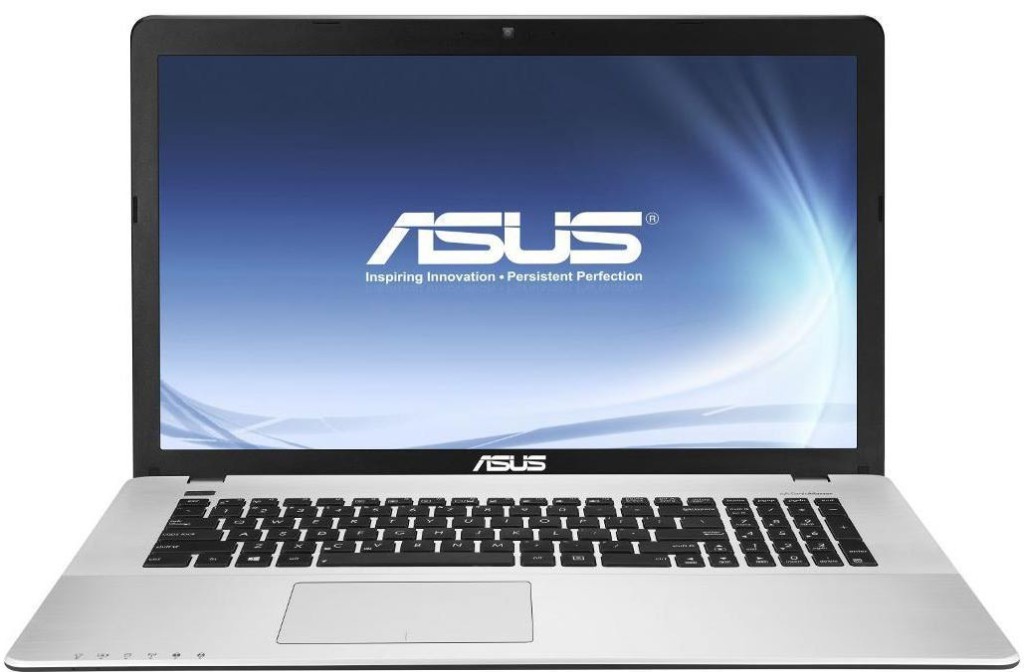 Viewing angles from ASUS K750JA not too wide, but the figure of the brightness of the monitor is very good. This way you will be able to work on this laptop is not only at home or in the office, but also on the street, even in a fairly sunny weather. The only thing that can prevent this, it is inefficient battery that will not allow a long run in standalone mode.
To sum up it is worth noting that the display ASUS K750JA perfect for work with a text browser and presentations, as well as for entertainment, such as video games and watching movies. But for a more professional job with graphics editors is best to choose a high-quality display.
Performance
On board ASUS K750JA is a modern quad-core Intel 4th generation Core i7-4700HQ with a clock speed of 2.4 GHz. In addition, ASUS K750JA has 8 GB of RAM, 1 TB hard drive and built-in graphics card Intel HD 4600.
The big drawback here is the lack of a discrete graphics card, the presence of which would significantly expand the range of applications of this laptop. Other indicators are quite meet modern needs. This laptop is a good choice for work in a variety of office applications, storage, multimedia libraries, as well as various video games to run on the system's settings. If you really love to play, the lack of a discrete graphics will be felt very keenly.
Interfaces
The set of interfaces at the ASUS K750JA quite rich. On the right side there are two ports USB 2.0, AC adapter jack, and an optical drive. On the left side there are two more ports USB, this time 3.0, 3.5 mm combined audiodzhek, RJ-45, HDMI and VGA video outputs and a lock slot Kensington. SD card reader is on the front panel and the rear panel is empty.
Output
ASUS K750JA – this is a good and relatively inexpensive multimedia laptop with an attractive design and a comfortable keyboard. ASUS K750JA also has a fairly rich set of interfaces, which is useful both at home and in the office. The obvious drawbacks here can be identified lack of discrete graphics and a weak battery. But here it is worth to say that ASUS K750JA more likely to be used as a desktop computer, rather than as a portable laptop.
ASUS K750JA – a convenient solution for those who need a multifunction computer to perform routine tasks as well as for simple entertainment, such as movies or start listening to music.
Read another very interesting article about alternative energy of the Sun, water and air.