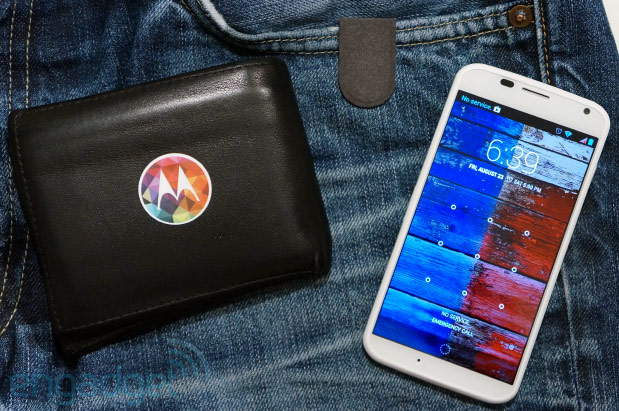 Smartphone – a tool that should always be at hand, but at the same time, with the development of technologies need to be concerned about the security of data stored in the memory of the digital assistant. It should, at a minimum, set a password to unlock. This method is quite reliable, but, unfortunately, has a major drawback – the time it takes to enter a password or key graphic, and in fact we extract the device from his pocket a dozen times a day. Motorola offered an elegant and modern solution to this problem – even wonder why did not think about before.
$ 20 Motorola offers to purchase a set of four NFC tags. Three of them are in the form of branded stickers that can be placed, for example, the purse or the holder of a smartphone in a car. But more unusual was the fourth and represents roughly speaking thick fabric strip with magnets on its both ends. It can attach to clothing, such as jeans pocket as shown in the photo above. Once you have placed all the labels at hand, will be sufficient to press the power button without entering the password to rest my gadget NFC-tag, then it will unlock an instant.
Resource Engadget have managed to test a new way to unlock your smartphone: the video on this topic, see below. Well, we hope that the idea taken up by third-party developers and will release an application that would have allowed anyone remember any smartphone NFC-label (for example, a ticket on the subway), and unlock it for presentation to the device.
Read another very interesting article about alternative energy of the Sun, water and air.