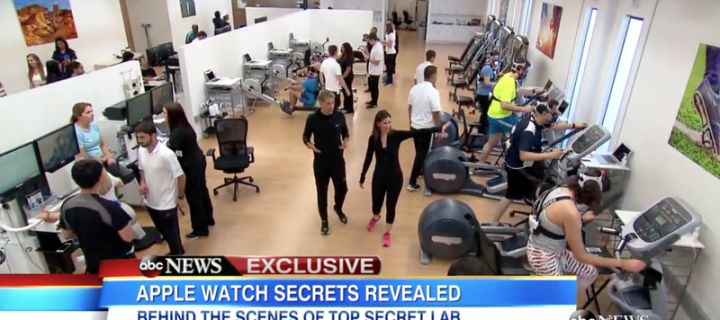 Apple uses its employees to test the fitness options Apple Watch for nearly two years. And recently, journalists morning show Good Morning America ("Good Morning America"), which aired on ABC TV channel, had the opportunity to be in a secret lab where Apple equips its volunteer experts various sensors "worth millions of dollars" (and some scary looking masks) to obtain valuable information about exercise and physical activity.
In many ways, the room where is the secret laboratory Apple, looks like a typical gym with rowing machines, treadmills and plenty of yoga mat. Apple has from the outset began to collect all the data to improve their watches. When this was not without a high degree of secrecy, which is different "apple" company.
Apple even removed from sight Apple Watch and told the volunteers why they perform certain exercises. The laboratory staff was running, yoga, boating, and perform other exercises, putting on every workout disguised Apple Watch, masks, and other equipment.
ABC journalists held by the lab Jay Blahnik, who came to Cupertino from Nike. He showed "climate chamber" that help recreate the exercise in extreme temperature conditions. Apple has visited different parts of the globe (mentioned Alaska and Dubai) for testing outdoors.
Source: TheVerge
Read another very interesting article about alternative energy of the Sun, water and air.