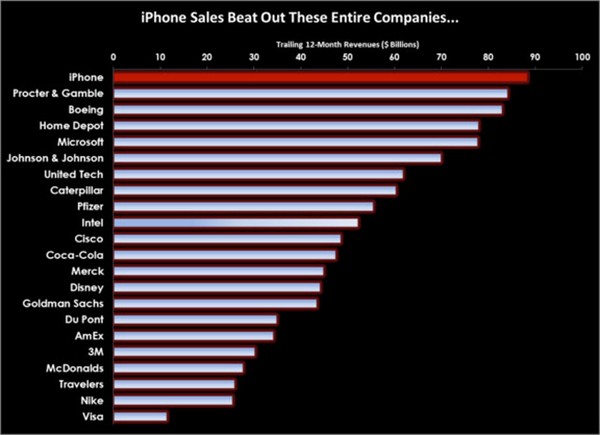 During the 6 years of the smartphone from Apple has become one of the most sought after products in the world market. And it 's not just about technological products, and about any other industry, and even the service sector. If Apple has created a stand-alone unit dealing exclusively selling the iPhone, then the company would have taken 21th place in the ranking of the top 30 Dow Jones.
iPhone brings more pribyliKak reports Businessweek, revenues from sales of smartphones Apple exceeded the total income of all the products of such companies, as Coca-Cola, Microsoft, Boeing, etc. and amounted to 88, $ 4 billion. In this case, given that the release of new smart phones iPhone 5S and iPhone 5C was almost double last year's successful release of the iPhone 5 ( for the first three days, the company sold about 9 million units ) , the prospects are drawn quite promising. However, many analysts believe these figures are " far-fetched " and this is likely to have a grain of truth.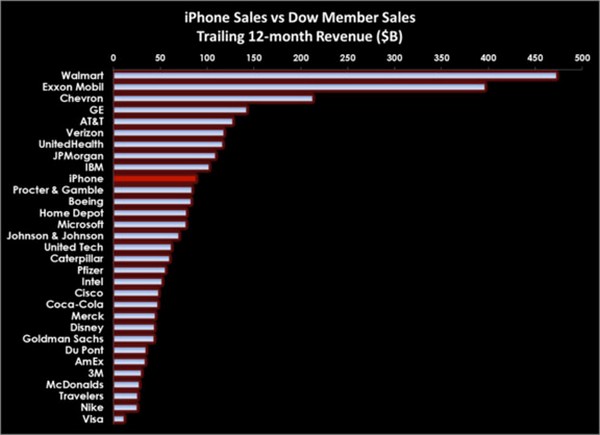 iPhone brings more pribyliOdnako , almost all experts agree that the iPhone is still one of the most stable and profitable products – that's due to sales of smartphones profit Apple, is projected to continue to grow by about 10 % quarter-on- quarter ( net annualized profit from the sale of iPhone in the past 12 months was about $ 81 billion). Needless to say that it is the smart phones are the most cost-effective products from Apple, bypassing most profitable computers, tablets, set-top boxes and multimedia content?
Read another very interesting article about alternative energy of the Sun, water and air.