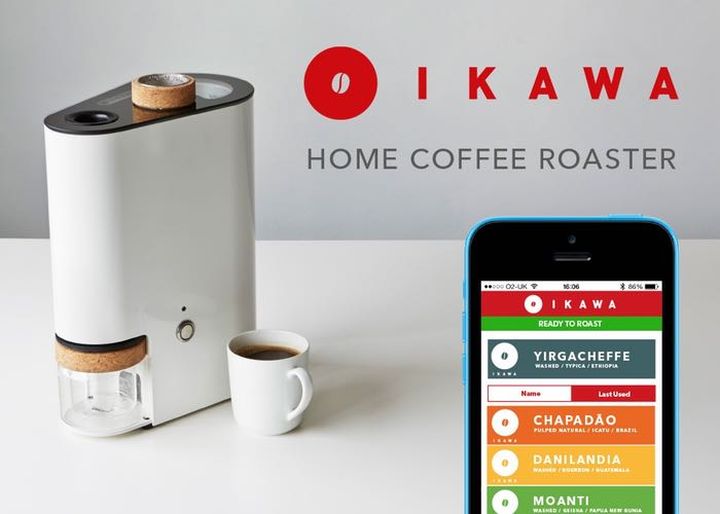 Every morning for all of us begins with cooking a cup of coffee. But if you are a real fan of delicious coffee, then you need to really fresh coffee. Let's see what we offer conferencing new technology today.
The British company has created IKAWA very wonderful and useful device for our lives. This coffee maker is not just an ordinary coffee can cook for you. But also make it so tasty and fresh. Let's see how the new coffee maker IKAWA works.
The principle of cooking IKAWA Home Roaster
According to the British manufacturer that really fresh coffee can be obtained with the right preparation. But there is still one important aspect. The coffee should be roasted to getting a remarkable freshness and flavor of coffee.
Therefore, the manufacturer came up with extremely compact and convenient coffee machine called IKAWA Home Roaster. Let's see what the new invention is capable of doing.
IKAWA Home Roaster is not just a regular coffee, and it can be prepared with the correct roasting your coffee. Therefore, the company IKAWA spent a lot of time on the right roasting coffee. Now you can drink coffee with a wonderful aroma each morning.
Features of the IKAWA Home Roaster
The new device has a very compact size. So, IKAWA Home Roaster coffee maker can be placed in any corner of your kitchen. And as reported by the manufacturer of the device weighs only 4.3 kg. Move your coffee maker can be done easily.
Another feature is the availability of an application for your smartphone or tablet. Therefore, the coffee will be prepared and cook through your phone. This is very convenient, as the possibility of setting a very different taste.
Conclusion of the IKAWA Home Roaster
The new model IKAWA Home Roaster pleased with their technological features and capabilities. The project of the coffee machine is on site Kickstarter. So if you like this project, you can support it for future mass production. The price of the new device will be 450 pounds.
Source: Geeky-Gadgets, KickStarter
Read another very interesting article about alternative energy of the Sun, water and air.