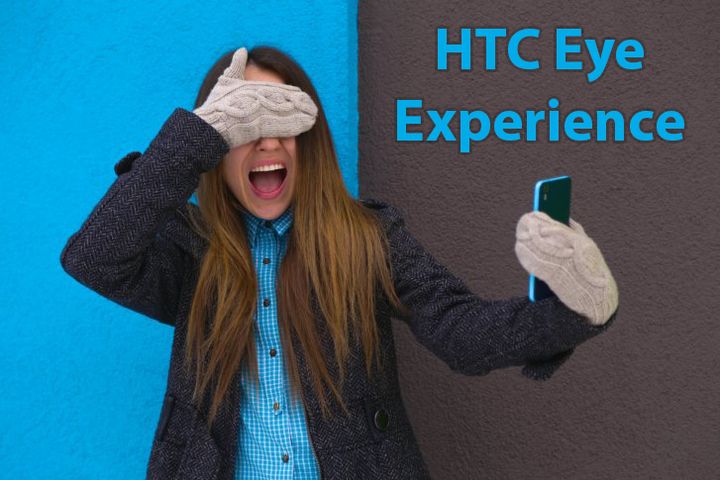 Against the background of mass hysteria around SELF almost every phone manufacturer considered it my sacred duty to release a device with a good front-facing camera. But HTC's gone a little further and not only showed the world tearing all the templates Desire Eye, but also prepared a special software package for most of its smartphones, which will help to collect photographs even more likes. His name – HTC Eye Experience.
One of the main problems when shooting a joint self – decide who will press the shutter button (read "get worse in the picture"). In HTC Eye Experience this problem is solved by several ways. After activation settings auto-detect smiles and voice commands, the moment automatically when all the people who are in the picture, smile or be still for several seconds. If you are a solid businessman (need serious self) or are on the move, you can make a frame with the help of voice: it is enough to say aloud (this important clarification) "Photo" or "remove" – and starts a three-second timer.
If the automatic shooting can be found on devices from other manufacturers, it is nothing like the Split Capture I had never before seen. In this mode, pictures and videos at the same time made to the front and rear camera. This solution can be useful for bloggers who are often broadcast from different events, because in the main picture can add an entry from the front of the camera and thus share their impressions with subscribers.
The accuracy of face recognition in Desire Eye I was pleasantly surprised when we first met yet, but seeing regime Crop Me In, I was finally convinced that programmers HTC knowingly eat their own bread. Because, when a photograph taken at the front camera, cut man and inserted in the footage is already using the main unit, rarely get something sane. But in the case of HTC Eye Experience the result turned out to be quite suitable for publication on social networks. Sometimes, of course, appear some error (especially in low light), but you can do a favor to the beta status.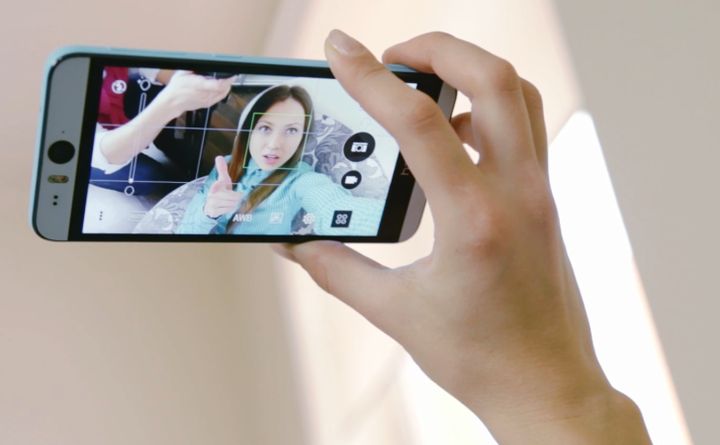 Several years ago, the Internet was popular service "Find out how your baby will look like." There had to add two photographs (preferably male and female) and the outlet to receive and sign a mix in the face of 7-year-old boy, or about the same age girls. Such a regime that combines two faces into one, there is a HTC Eye Experience – Face Fusion. Made such terrible experiments on human beings in the standard image editor using the effect of "Morphing". Something worthy Instagram turns extremely rare, in most cases, the final result resembles a still picture from some horror movie.
Mode Live MakeUp – a real godsend for girls. Now the fair sex do not have to sit for hours in front of a mirror to make a single photo. Suffice it to switch to the front camera and a slider appears that you can adjust the amount of make-up. As I wrote above, the Face Recognition function works very well here, so the effect is applied only to the person and not the whole picture.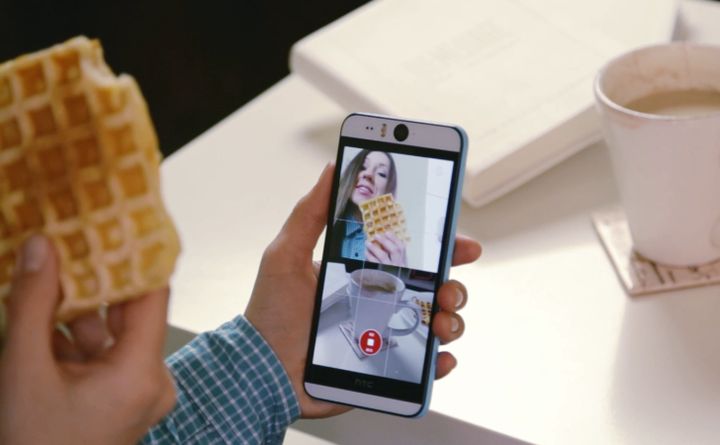 Take care to HTC and hipsters, as well as their love for photography. In the Photo Booth with a three-second timer are four shots and automatically added to a pre-selected collage (all three versions). Particularly impressive result looks paired with some vintage filter.
In fact, HTC Eye Experience – is pathetic name some of the features of the standard application "Camera" (you can download it in Google Play, but of course, that it is only compatible with phones HTC). If Desire Eye and future of smartphones, all these functions will be available already "out of the box", the owners of HTC One M7, One M8, One E8, One mini and One mini 2 you just need to wait for a special upgrade and enjoy life.
Read another very interesting article about alternative energy of the Sun, water and air.