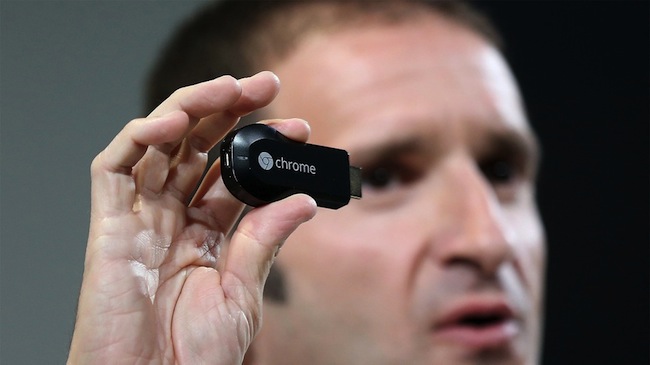 At its next conference in this environment the search giant has introduced not only a new member of the family Nexus Tablet , but Chromecast – a small television set, through which users can display on their TV screens and a video clip from smartphones, tablets and computers.
What does that mean – Google reinvented AirPlay? Not really. Apple TV is a fully self-contained unit, and the opportunities it has a lot more. Chromecast wins that supports the reception of a signal from a variety of gadgets – the iPhone and the Nexus 7 to the Mac open the browser Chrome.
It looks like an ordinary Chromecast USB-stick, but it plugs into the HDMI. In fact, he just acts as a "virtual" cable, HDMI, if you are connecting from it using the iPhone or iPad to your TV. Google not only minimized the size of the device, but also the number of wires – they simply do not. However, this is still an accessory. And compare it with the Apple TV is not entirely correct.
Given the growing popularity of smart phones Android, Chromecast will enjoy the incredible demand. They will also be joined, and some buyers gadgets Apple, will save $ 65 on the purchase of Apple TV. Especially since many houses often have a device to iOS, and on Android, so for them the obvious choice at all.
At the same time takes Chromecast cost. The device will cost just $ 35. For those functions that it provides, it's really ridiculous price tag. Apple asks for its set-top box $ 99.
Nevertheless, Apple TV – a device completely different level. Set-top boxes from Cupertino chosen mainly those who for some time has formed in his apartment or office an entire ecosystem of iOS-gadgets and the Mac. "Whistles" from Google is useful in almost every house where there is Android and the Internet.
Perhaps in the iTV Corporation will wipe your nose and search engine implements all these functions in a single TV. But it will happen, I'm afraid, yet not soon .
Read another very interesting article about alternative energy of the Sun, water and air.