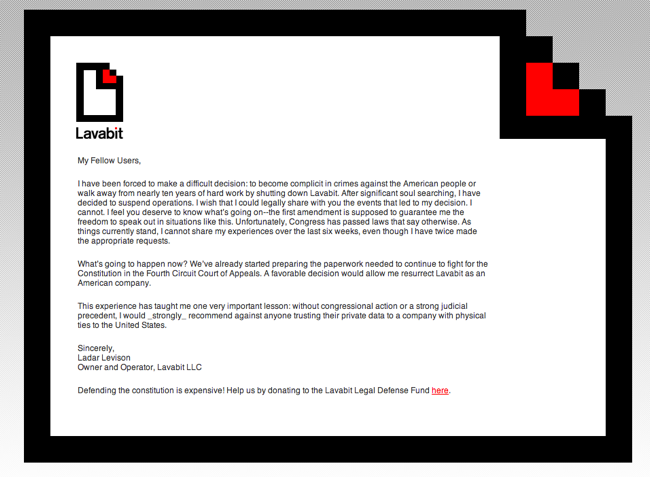 Edward Snowden (Edward Snowden), a former programmer and system administrator at the CIA and the NSA, who discovered the existence of the world PRISM program , used for sending emails from Russia Lavabit service . Apparently, it's not like the U.S. authorities, and on the project site there was a message that it will be closed. Owner Lavabit Ladaria Levison (Ladar Levison) wrote that he was forced to take the "difficult decision", but because of the amendments adopted by the U.S. Congress, he can not name the exact reasons for the closure of the business.
On the basis of this report, it can be concluded that the U.S. authorities have, or have tried to access the mailbox Snowden, although this until there is no evidence. This episode gives more questions than answers, as the requirement to close a service of e-mail, instead of removing one mailbox from U.S. authorities looks strange. And the question is, would they shut Gmail, if they took advantage of Snowden?
Recall that Edward Snowden opened the public the existence of the program PRISM, which collected personal data from the servers of the largest IT-companies. As a result, the U.S. government presented to Edward charges of violating a number of laws, after which he was put on the international wanted list. At the moment, Edward Snowden is in Russia as a political refugee.
Read another very interesting article about alternative energy of the Sun, water and air.