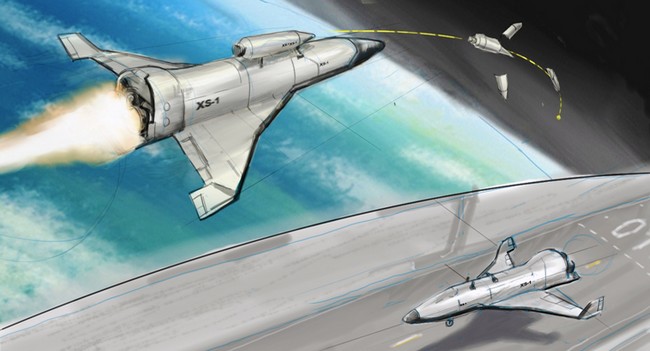 Lately Agency Defense Advanced Research Projects USA (DARPA) has presented some pretty promising developments. Among the latter it is worth noting the fleet of underwater drones Hydra and "Universal Soldier" Warrior Web . At that DARPA is not going to stop, and already thinking about the space shuttle.
It should be noted that the currently existing solutions or those that are being tested, and could not live up to expectations. The launches of spacecraft such as the Space Shuttle and SpaceShipTwo are complex and are very expensive. If DARPA announced the XS-1 program will be a success, it will soon be commercial space travel can be a daily occurrence.
As part of the agency plans to develop unmanned spacecraft, developing speed, which is 10 times greater than the speed of sound. As planned DARPA, XS-1 will be able to at least 10 with payload within the 1400 – 2300 kg for 10 days. In this case, the cost per flight will be less than $ 5 million.
It is worth noting that the XS-1 program will complement ALASA (Airborne Launch Assist Space Access), in which DARPA plans to put into orbit satellites weighing less than 50 kg, using a converted aircraft as a platform to launch the rocket. In this case, the cost of running should not be more than $ 1 million.
Currently, DARPA is open to suggestions on the program XS-1 and planned about this special event, which will take place on October 7.
Read another very interesting article about alternative energy of the Sun, water and air.