Last week, Apple announced a takeover geolocation service HopStop. Notable not only for the fact that the Cupertino looking for ways to improve their own maps, but also the fact that the day of confirmation the company has removed the absorption HopStop platform for Windows Phone, leaving the version for iOS and Android.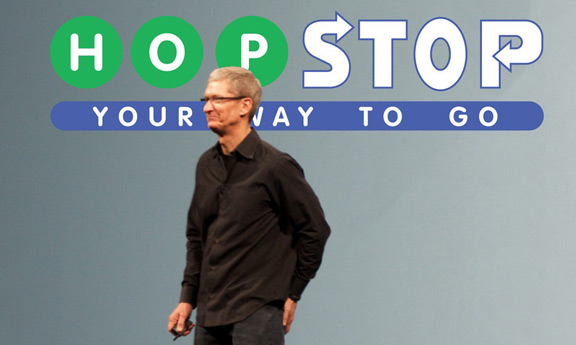 Experts believe that the application is justified desire to purchase Apple improve its mapping service. Own card company, debuted in fall 2012, did not differ accuracy and completeness of information, which has caused indignation of many people. In turn, HopStop offers users online maps of over 600 cities around the world where there are routes of movement on foot, by bike, by car or by metro. Service was founded in 2005 and supported mobile platforms iOS, Android and WP.
It is noteworthy that after the purchase HopStop, literally on the same day, Apple disabled the app for smartphones on Windows Phone. In the program there was a record that this OS is not supported, and to get the required functionality, the company recommended using either a mobile version of the site, or smartphones to iOS or Android. Link to the application of the store Windows Marketplace has been removed from the site.
Analysts were quick to make just two conclusions. First, Apple sees Android as a platform on which to support their application. Second, the company does not consider Windows Phone «equal» mobile operating system.
The first fact experts regard as one of the signs of improving relations between Apple and Google, which have deteriorated badly in recent years, the life of Steve Jobs. This, in particular, said Chairman and CEO of Internet giant, Eric Schmidt. According to him, the top managers of the companies had a lot of meetings, during which the parties have settled all possible odds.
Read another very interesting article about alternative energy of the Sun, water and air.