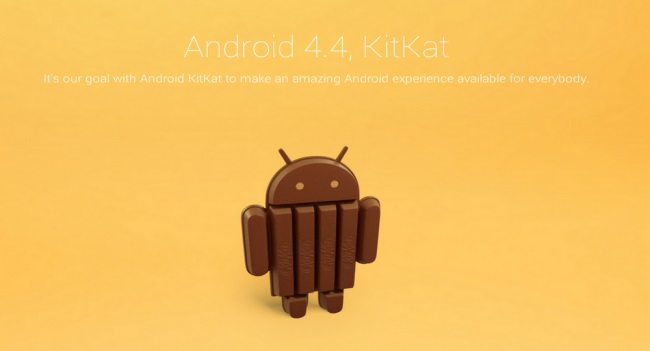 It is expected that in the near future will release a new operating system Android 4.4 KitKat. Resource JessicaLessin shared some information about the new capabilities of the OS.
Reported that developers have paid much attention to optimizing operating system to allow its normal use on mobile devices is quite weak. In particular, optimized memory usage of each part, and offers a means for developers to create applications that use memory efficiently. Thus, the OS will be able to function at an entry-level devices, equipped with 512 MB of RAM.
It is also reported that the development of Android 4.4 KitKat paid much attention to the promising market of wearable computing devices. To this end, the OS introduced support for three new sensors: a sensor geomagnetic vector sensor moves and counter moves.
The new version of the OS will allow developers to create services that make smart phones will be able to emulate a physical card. Thanks to this, users can make payments, participate in loyalty programs, pass control systems, use of public transport. This will expand the scope of the technology NFC, the dissemination of which is largely constrained by the lack of opportunities to emulate physical maps.
Operating system Android 4.4 KitKat will use a mobile device as a universal remote control for home electronic devices: TVs, tuners, switches, etc. It is planned to use the infrared port. It should be noted that even now in some mobile devices implemented this feature, but it is the outcome of the development of individual producers. Now, this feature will be a single standard.
In addition, Google is going to implement the ability to interact Android-applications with a large number of devices using wireless Bluetooth. Already, mobile devices with Android OS can interact with keyboards, car entertainment systems. However, with the introduction of support for Bluetooth HID and Bluetooth Message Access Profile in Android 4.4 KitKat significantly expand the list of devices.
Read another very interesting article about alternative energy of the Sun, water and air.