If you are one of the lucky ones that has a smartphone or tablet with Android 6.0 operating system, you probably have noticed one major flaw in this version. When you connect your smartphone to a computer then it uses a USB as the charge by default, not transfer files or PTP! It's easy to fix!
Despite the fact that Android 6.0 has many innovations, optimizations and bug fixes, though not without stupid decisions. One of such problem by Google developers is a USB connection. When you disconnect your Android smartphone or tablet from the computer and reconnect it again you need to constantly change the way of USB connection to transfer data.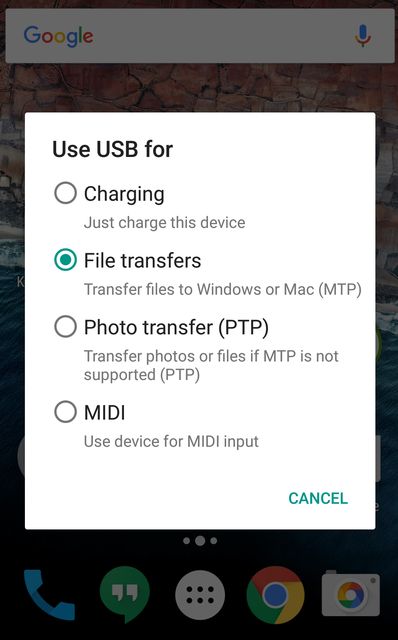 If you rarely connect your Android smartphone to your computer, then the problem is insignificant, but if you connect your smartphone or tablet to your PC every day, then it becomes annoying.
However, Google developers have left the possibility to solve this problem and to set USB connection to transfer files by default.
Choose USB connection to transfer files by default?
You need to perform the following steps to make USB connection to transfer files by default:
Disconnect your Android smartphone from PC.
Go to Android Settings.
Find and go to "About phone" or "About tablet".
Then you should press 5-7 times "Build Number" very quickly to activate the "Developer options".
Go back to the main settings menu and navigate to "Developers options" section.
Select "USB Configuration".
Select MTP connectivity to transfer files.
If you have not Android drivers on your computer, then you need to install them.
That's all! Now with the new connection of your Android smartphone or tablet to computer the USB connection will be transfer data by default, which you have chosen in Developer menu.
Read another very interesting article about alternative energy of the Sun, water and air.