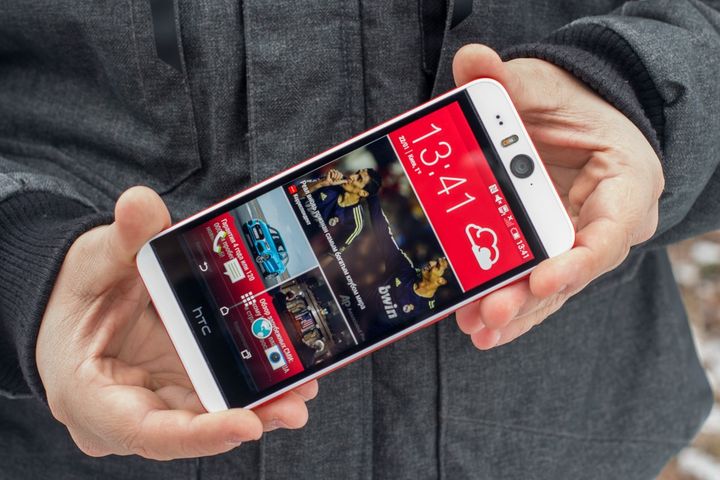 The hero of this review was the HTC Desire EYE – the flagship model in the line of Desire c two 13-megapixel camera and an excellent software for recording and processing of photo and video. The advantages of new items should also include a 5.2-inch display and class dynamics. About the price of the device and my impressions of it, read the review.
Design and body
Let's start from afar – a general perception of design and case HTC Desire EYE, and then quickly move on to the camera.
This tube – closed monoblock polycarbonate. Closed it in the literal sense of the word. The smartphone is not afraid to dive into the water to a depth of 1 meter, which undoubtedly has one of its virtues.
Even with a relatively-small dimensions smooth contours the body good "hold" the phone in his hand. Material non-slip, comfortable soft-touch. At the ends, in place of red, blue can be, and the place of the white back cover – blue. The colors are bright, so I tend to think that externally Desire EYE – it's still a youth smartphone, as it is not cool.
Inflection by weight not. Claimed 154 grams of added confidence and reliability of the design, especially when take pictures with one hand. Assembly at the highest level, materials fit tightly. The only thing that can be a bit annoying – the dust that collects on the speaker grilles.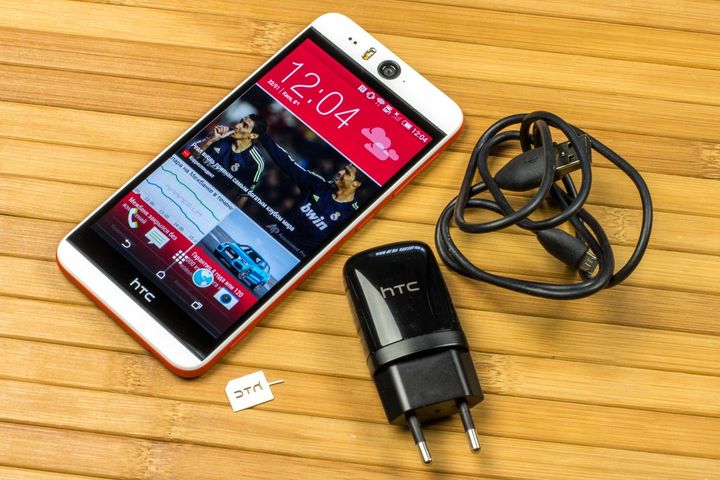 Of sharp and straight lines in design – only the frame of the display, and of the dynamics of oblong, emits a nice sound. But subjectively, on the One M8 sound better. However, the bass still discourage pleasant shiver palm when playing your favorite track, and paired with cool headphones – a delight! And not the least merit of this technology HTC BoomSound.
If we ignore the location of functional elements, a power button, volume and camera placed on the right side. Left – slots for nano-SIM and microSD card. Audio jack placed on the top, and microUSB port on the bottom.
Well, HTC Desire EYE looks boldly sounds quickly, clearly shows up and running quickly. On the last two points in more detail.
Screen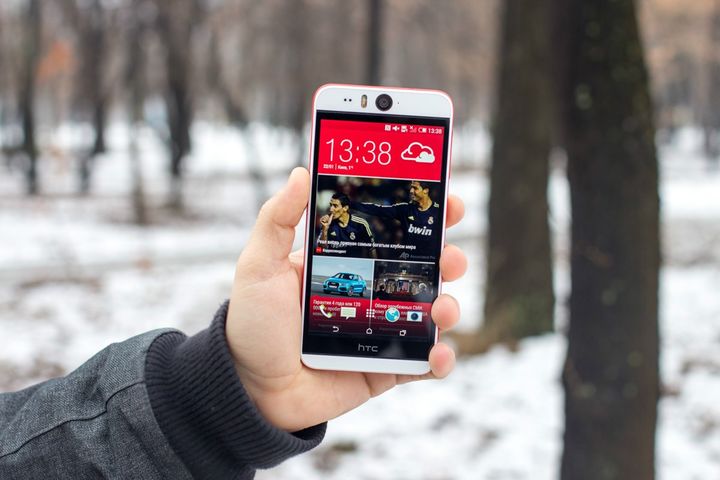 Screen size – 5.2 inches with a resolution of Full HD. Picture juicy and contrast. Especially nice to look at it in high definition movies and play hard on the chart or arcade shooters. Floor display has oleophobic layer that easily cleaned fingerprints. Top screen is protected by glass Gorilla Glass 3.
The hardware part of
For performance Desire EYE meets 4-core processor from Qualcomm (Snapdragon 801, 2.3 GHz), which is complemented by 2 GB of RAM and 16 GB of internal memory. Out of the box the user can use about 10 GB, the rest takes the operating system shell and pre-installed applications. You can expand the storage memory cards up to 128 GB. USB-OTG is also relevant and supported.
Tube works on Android 4.4.4, which is complemented by the user interface HTC Sense 6.0, detailed consideration in the review of HTC One M8, and opportunities Motion Launch. Recently a kind of simplified access to unlock and manage smartphone. The device understands and responds when you take it in hand and spend a certain way on the screen. The screenshots below in greater detail the options Motion Launch.
Well, again, HTC Desire EYE looks boldly sounds playfully shows bright, fast and takes on all of its price tag.
Camera
He does this through the 13-megapixel front and rear camera with HTC UltraPixel. On each side of two flashes. Photos are clear with good detail and color reproduction, and not only during the day, but also indoors in low light.
The front camera on its characteristics give odds to many major photomodule devices middle price segment. Judge for yourself: 13 megapixel BSI-matrix with recording Full HD video, wide-angle lens with an aperture of f / 2.2 mode and HDR.
The main camera is equipped with more advanced 13 megapixel photo module with BSI-matrix, aperture f / 2.0 lens with a 28mm auto focus, zoom, support for HDR, and the ability to record video in Full HD 1080p. Software includes modes of accelerated and delayed recording, as well as a full set of manual settings ISO, white balance, etc.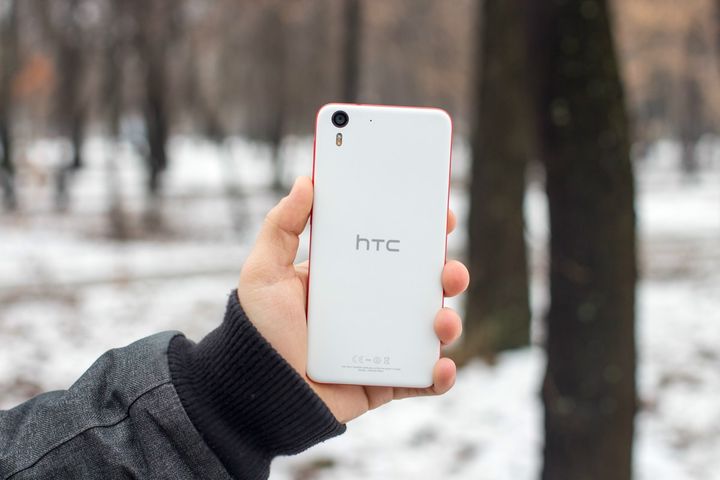 But technology equipment, and a highlight was PhotoChances Desire EYE software HTC EYE Experience. It is worth to highlight the following:
– Avtoselfi and voice self. Smiled and said "cheese" – photo ready.
– Insert the face – cut yourself out of a photo or video taken with the front camera and insert it into the frame, made basic.
– Quick Makeup – edit photos while shooting.
– Photo Kiosk – do four pictures in a row and as a result the picture of the photo booth.
– Morphing or combining images – choose from a gallery of photos, and then the person with whom it should be merged
– Group video calling – the application automatically tracks the faces of the video chat, up to four people at a time. When this function is "Screen Sharing" allows to show interlocutors display of your smartphone in real time.
– And finally – double shooting that allows you to take pictures or shoot video at the same time the main and front cameras.
In words, little understood, and screenshots do not show, so check out our video review – everything shown in the examples available.
Battery
Virtually all working moments evaluated left to talk about how tenacious HTC Desire EYE.

Inside the battery is 2400 mAh. When stated above capabilities, and continuous use of the camera for more than one day a smartphone I have never stayed. And here's why. The smartphone is only one radio, Bluetooth I used rarely, but it was always turned on Wi-Fi, and the brightness was at maximum. Management regime was as follows – for half an hour a day phone calls, an hour of music on headphones, an hour of video in Full HD, the same number in the game Asphalt 8, half an hour by mail and the Internet, and about 20-30 minutes at the camera. Before going to sleep was no more than 10% charge.
Mode economical battery consumption and even extreme, imposes restrictions on the functionality present.
Findings
In summary, I would say that the HTC Desire EYE paired with applications HTC EYE Experience – this is a big and exciting world of human integration, camera, and social networking. With such a desire by photo shoot, process and post photos and videos has grown significantly. However, not only because it will have to pay a lot of 450-500 USD
In addition to high-quality mobile photography, whether it's on the main front or 13 megapixel camera, the handset offers a decent screen, sound and performance, as well as bright waterproof housing. In my opinion, direct competitors HTC Desire EYE not. And it's not so much the hardware filling as progressive software to work with cameras.
pros:
Excellent camera and applications for processing the captured images and video;
Bright design;
Waterproof casing;
Quality sound through the speaker and headphones.
cons:
Average autonomy;
No black palette enclosures (subjectively).
Read another very interesting article about alternative energy of the Sun, water and air.