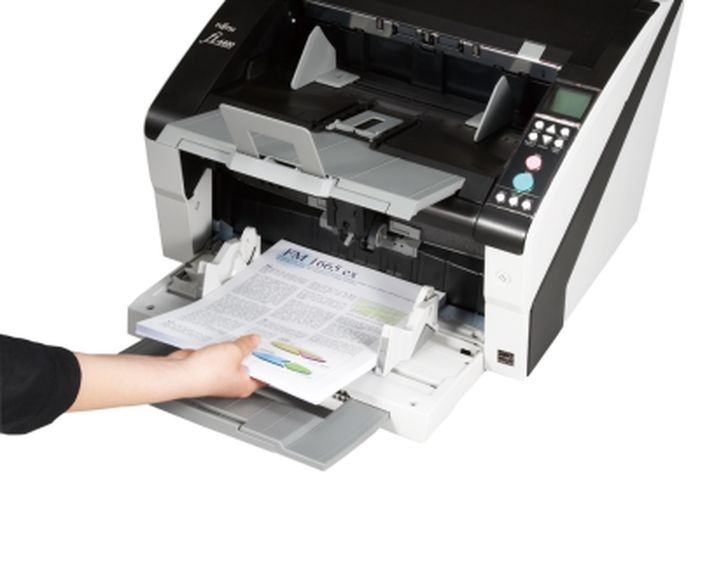 Scan documents of various types, maximum productivity for information workers, seamless integration
Fujitsu scanners appeared very functional novelty: thanks to an affordable price the Fujitsu fi-6400 makes a professional enterprise-class technology accessible to new groups of users. The scanner is equipped with all the features and software that are required for production environments with average load, and is the ideal solution for centralized document scanning in small and medium-sized companies. Larger organizations can use the Fujitsu fi-6400 in the offices of its affiliates. Designed for centralized operation and administration of the scanner fi-6400 boasts improved performance – up to 100 sheets per minute (A4, color, bilateral, with a resolution of 300 dpi), and its automatic document feeder holds 500 sheets and can support large originals (up to A3). A new addition to the series, you can fi will be demonstrated at the CeBIT 2015 (square Fujitsu, Hall 7, Stand A28) from 16 to 20 March.
New Fujitsu fi-6400 scanners for industrial environments
Line extension fi series scanners
Enterprise-class technology for small and medium-sized companies, as well as for large organizations
Built for centralized operation with high performance requirements
Presented at the exhibition CeBIT (area Fujitsu, Hall 7 / Stand A28)
"In production environments there is increasing demand for solutions with low and medium capacity, – says Mike Nelson (Mike Nelson), Vice-President of PFU Imaging Solutions Europe Ltd., a subsidiary of Fujitsu. – Scanner Fujitsu fi-6400 – our response to this trend: a universal solution is equally suitable for both large organizations and small and medium-sized companies. "
"In our time, not only big companies have a need for document management and professional solutions for scanning, – adds Klaus Schulz (Klaus Schulz), marketing manager for PFU Imaging Solutions Europe Ltd. , EMEA. – Along with the new scanner Fujitsu fi-6400 we offer small and medium-sized companies, enterprise-class technology at an affordable price. "
Scan documents of various types
The Fujitsu fi-6400 – is a universal solution for scanning large volumes of documents, which makes it possible to process incoming documents and convert paper documents into useful electronic data to improve business process management and automation. Scanner can digitize a variety of document types, from very thin receipts to documents on thick paper (20-209 g / m2), and support the size of the originals from A7 to A3. Built-in protection reduces the risk of damage to paper documents, even at high scanning speed. Warm-up time from the scanner fi-6400 is less than 15 seconds, which also contributes to increased productivity.
Maximum productivity for information workers
The scanner has an ergonomic design: the paper feed mechanism with front-loading compact design and low height provide easy loading paper and remove the scanned documents. Thanks to the professional hardware and software for image processing is a complete solution for document scanning guarantees the highest quality scans. This in turn leads to a reduction in the number of errors and increase the efficiency of character recognition processing, to save time and simplify the operation, which increases the overall performance of information workers and operators.
Seamless integration
The fi-6400 is conveniently integrated with other scanners Fujitsu Series
fi in existing environments to maintain the uniform principles of operation. It comes with a complete set of software: PaperStream IP processing and image enhancement, PaperStream Capture streaming to optimize scanning and Scanner Central Admin to effectively manage multiple scanners. The same interface and consumables for different models reduce maintenance costs.
The scanner can be purchased from partners Fujitsu, since March 2015. Suggested retail price is $ 11,395 (7998 €, 6495 £), excluding VAT.
Source: Fujitsu
Read another very interesting article about alternative energy of the Sun, water and air.