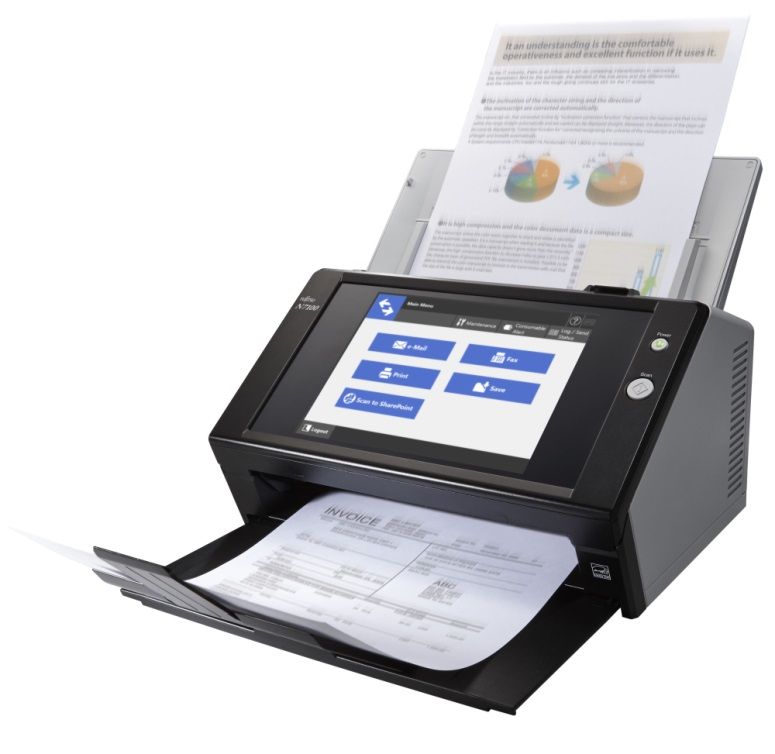 Fujitsu Produces scanner that sets new standards in the segment of network scanners. Due to better CPU and GPU Fujitsu N7100 accelerates image processing workflow within about ten times compared to its predecessors N1800, you can view the scan results in near real time and significantly reducing the loss of time. New mechanism of the active paper prevents jams and ensures reliable separation sheets to avoid loading multiple sheets at the same time.
New Fujitsu N7100 network scanner based on proven architecture with user-friendly touch screen
Processes images up to 10 times faster, allowing you to get rid of the queues and view the results in near real time
The new system is active for the perfect separation of paper filing
Software PaperStream to improve image quality, USB-ports and the SDK for full integration of devices into business processes
Presented at the exhibition CeBIT (area Fujitsu, Hall 7 / Stand A28)
In addition, it comes bundled with software PaperStream and has USB-ports for connecting a keyboard or reader IC-card, and it helps to increase the level of automation and overall performance. This stand-alone network scanner can work without connecting to the computer and all installed in the company's Fujitsu N7100 scanner can be controlled from a central administration panel. A large touch screen device provides easy access to job profiles based on user roles, simplifying integration into business processes. New Fujitsu N7100budet demonstrirovatsyana at CeBIT 2015 (square Fujitsu, Hall 7, Stand A28) from 16 to 20 March.
Reducing the time of digitizing 50 percent
Fujitsu N7100 osnaschenbolee perfect CPU and GPU to accelerate the processing of the image 10 times, compared with the previous model N1800. This allows you to view the scan results in near real time and eliminates the job queues. The new device scans fed from the tray paper originals at a speed of 25 pages per minute (A4, color, double-sided, with a resolution of 300 dpi / 50 images per minute) and is able to almost instantly convert raw images into high-quality information without the delays that are typical for many scanners offered on the market today. All this reduces the total time of digitizing information about 50 percent and makes the model Fujitsu N7100 leader in its class.
The system of active paper
Fujitsu N7100 scanner is equipped with a completely new system of active feeder technology «Brake Roller». Like the more expensive models, enterprise-class, the system is optimized for the requirements of working groups and ensures reliable separation sheets in mixed packs of paper originals density from 40 to 209 g / m2 and even plastic cards.
Maintaining the efficiency of business processes
Among all Fujitsu fi-series scanners, this network scanner offers the most impressive software support PaperStream, which is designed for fast and high-quality image processing. In addition, the scanner has two USB-ports for connecting peripheral devices (eg keyboard), and using SDK (software development kit) can provide support for devices such as IC-card readers.
"The demand for network scanners is growing – said Mike Nelson (Mike Nelson), Vice-President of PFU Imaging Solutions Europe Ltd. (A subsidiary of Fujitsu). – Fujitsu N7100 is based on the model N1800, which gained wide recognition from customers, and develops its success by offering companies and government organizations of all sizes new and very useful features. "
"Even without connecting the scanner to your computer, the touch of a button, users can scan, save and send the document where you want. And thanks to the increased processing speed reduces unwanted loss of time ", – explained Klaus Schulz (Klaus Schulz), marketing manager for PFU Imaging Solutions Europe Ltd. , EMEA.
Safety first
Since Fujitsu N7100 scanner is designed for sharing among multiple users in a working group, it offers features such as password protection, encryption, automatically delete temporary documents and data safe initialization, leaves no trace on the historical data of users.
The new network scanner comes with software Network Scanner Admin and Scanner Central Admin Console for centralized management. It allows administrators to access individual network scanners or connect to a central administration server for simultaneous configuration and management of multiple scanners N7100 on the public network.
The scanner can be purchased from partners Fujitsu N7100, since April 2015. The recommended retail price is 1650 euros / £ 1249/2149 USD (excluding VAT).
Source: Fujitsu
Read another very interesting article about alternative energy of the Sun, water and air.