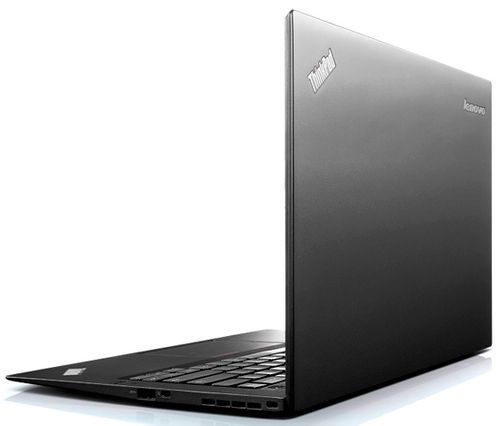 New Lenovo ThinkPad X1 Carbon, presented at CES 2014, is already the third generation of a modified line ThinkPad X1 Carbon. Previous versions of this model got all the same durable carbon fiber body and a narrow focus on corporate clients. The remaining elements have evolved and how the manufacturer says, clearly the better side.
For example, the new model is equipped with a touch screen with a resolution of 2560×1440 pixels chic, while the screen predecessor could boast only 1600×900 pixels resolution. Processor, built on the architecture Haswell, the latest operating system Windows 8.1, slim body – all this gives reason to believe that Lenovo ThinkPad X1 Carbon will become a favorite. I must say that at the moment is considered a novelty easiest ultrabook in the world of 14-inch devices.
Design – Lenovo ThinkPad X1 Carbon
As the name implies, as the material in this laptop is not dominated by plastic and metal and carbon fiber, quite simply, – carbon. Plus it is that it is lighter than aluminum, but much stronger and more durable. However, not all of the laptop is made of this material: the lid and the bottom of the laptop are made of soft-touch plastic. Although this material is sufficiently easily soiled, however, fingerprints are eliminated quite simple, with no additional effort. ThinkPad X1 Carbon color dark gray, and the device is no different extravagance and looks normal.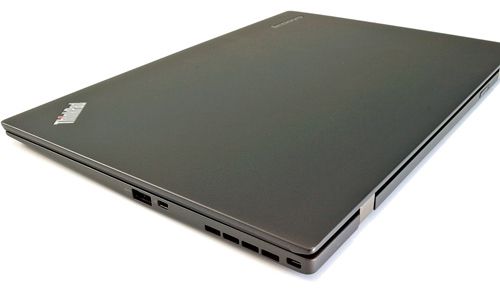 For reliability body absolutely no complaints: metal hinges firmly secured and open with one hand ultrabook will be very problematic. Incidentally, the lid opening angle of 180 degrees, this means that one can not comfortably operate only indoors, but also under field conditions. It is important that the laptop meets military standards, it can work not only in conditions of high or low temperature, but at different levels of humidity. In addition, ThinkPad X1 Carbon withstand vibration, some attacks are not affected by dust or rain.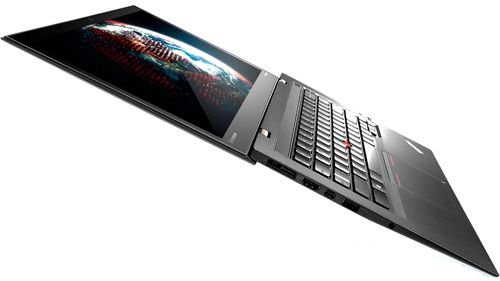 The interior of the laptop can be seen quite typical for models Lenovo keyboard with recognizable rounded at the bottom of the keys, as well as a large touchpad and trackpoint. But hidden under the surface of the display protective glass that covers the whole thing, from one end to the other. Because of this, it seems as if there is no bezel, though in fact it certainly is.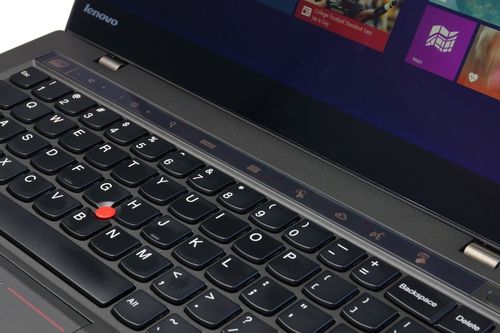 Compared with the previous version, the dimensions of the modern Lenovo ThinkPad X1 Carbon changed somewhat, but that is not surprising, because today operates an unwritten rule: the thinner – the better. And because in a modernized version of the thickness of the laptop is 20-14 mm vs. 24 mm, even a laptop has become easier – 1.28 kg vs. 1.36 kg predecessor. The length and width are not changed: 33 and 23 cm, respectively. Access to modules on the bottom of the gadget does not difficult: simply unscrew the 7 screws, and then you can get to the SSD. Incidentally, the same, from the bottom, you can see the ventilation grille to remove hot air and dynamics. And to the laptop was stable on the surface, there are four large rubber feet.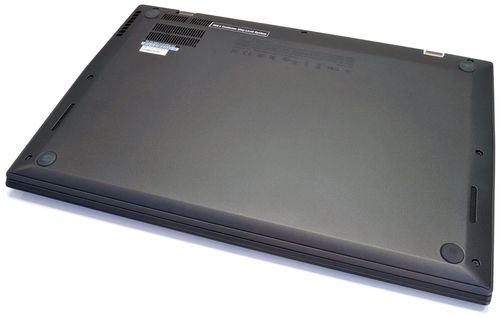 Display, audio and webcam – Lenovo ThinkPad X1 Carbon
There are several modifications laptop Lenovo ThinkPad X1 Carbon, which differ in resolution and display type. Choice offered two displays with a resolution of 2560×1440 pixels, with touchscreen and without it, and one with a resolution of 1600×900 pixels. For a more detailed consideration, we chose a model with a touchscreen. Thus, IPS-diagonal screen is 14 inches, it can boast of 210 ppi pixel density and wide viewing angles. According to the manufacturer, the maximum rate is 260 nits brightness. Reflective coating at the screen, and this is definitely a coup engineers.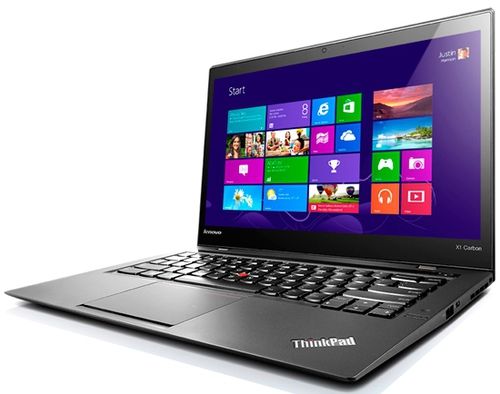 Given that the operating system in this laptop – Windows 8.1, select the touchscreen most reasonable, because this OS is perfect for him imprisoned. By the way, the screen supports 10-finger multi-touch gestures and the corresponding (scaling, flipping, etc.). By the way, the last feature is extremely good. But that's not all: in the laptop function is supported gestures without pressing the display (Gesture Control). Ie to execute the command just before the show webcam or that gesture. For example, to disable the sound needs to bring it to his lips finger, you can make the sound louder or quieter, change the presentation slides, etc. Note that this can not do any distance, from 0.5 to 2 meters.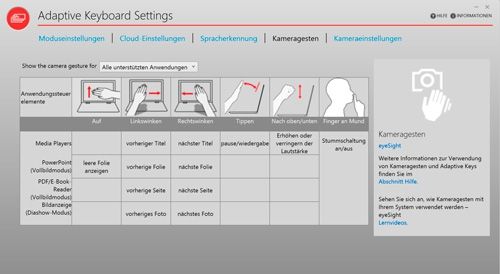 The viewing angles are quite acceptable, particularly image is not distorted, from whatever side it is not a user watched. In general, what is enough for the great work on the laptop. There is another important point – it is certainly a high resolution display, which is very good, but keep in mind that some of the images or text may be small and hard to read.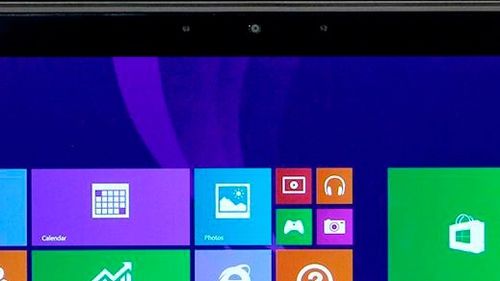 Above the display you can see the 1.3 megapixel webcam, close to where – LED work, two microphones and a light sensor. The webcam is an excellent tool for video conferencing, but high-quality images – this is not about her.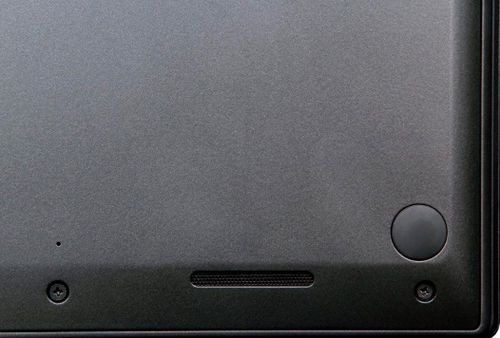 Speakers with support Dolby Home Theater v4 located on the bottom of both sides. Incidentally, this location can play a cruel joke: the sound of risks to be more muted. In general, the sound is very good, and while watching a movie the user will enjoy the excellent sound (thanks to technology for surround sound), and while listening to music will have to settle more than mediocre quality. However, in the equalizer you can adjust the sound to your liking.
Keyboard and Touchpad – Lenovo ThinkPad X1 Carbon
It is well known that Lenovo laptops are equipped with reliable and durable keyboard, and the one available in the Lenovo ThinkPad X1 Carbon – is no exception. It is an island type, and the distance between the keys increased somewhat compared to other brands. Shape of the keys is quite typical: they are slightly rounded at bottom. Marking buttons white. Furthermore, the keyboard is backlit with two levels of brightness and automatic switching.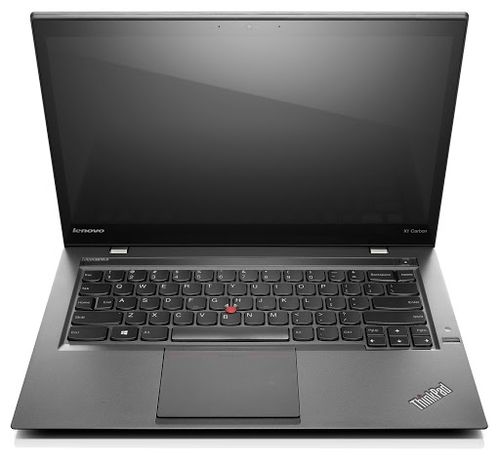 Digital unit in the laptop expected, and that all keys have turned out quite large, but at the same time accurate. Interesting solution can be seen on the left side: buttons [Home] and [End] is where the tradition should be [CapsLock]. Because they are too closely spaced as would be joined into one. By the way, in addition to key [CapsLock], whose functionality is now achieved by double-clicking the left [Shift], disappeared completely functional top row of buttons that will undoubtedly make some disadvantages in the use of the device.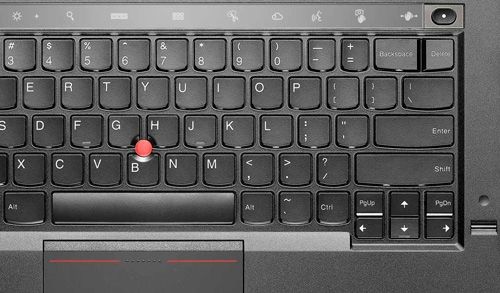 But over the keyboard has a touchpad Adaptive Keys, which is set as the user wants. To do this, there are four modes: basic mode browser, conferences and functional. As planned by engineers Lenovo, this panel should be a full replacement keys, which of this keyboard "dumped." It is noteworthy that each of the four modes is activated automatically when you run a particular application. For example, to open the browser will automatically set required for control commands, etc.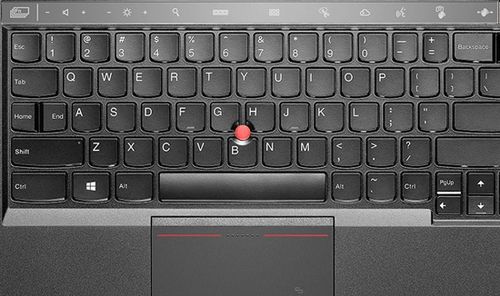 Traditionally, business devices, Lenovo provides a trackpoint as a red "warts" in the middle of the keyboard. He is very sensitive, and is another input device. TrackPoint also helps position. By the way, when working with a joystick, you can use the touch pad, the upper part of which is conventionally reserved for the keys and separated from the rest area bright markings in the form of two horizontal stripes.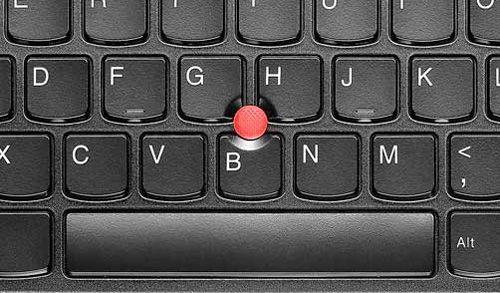 Of course, not without the touchpad. In this case, it is quite dimensional, tactile comfort, its boundaries are clearly palpable. Touchpad supports multitouch gestures. Physical keys below the touchpad not.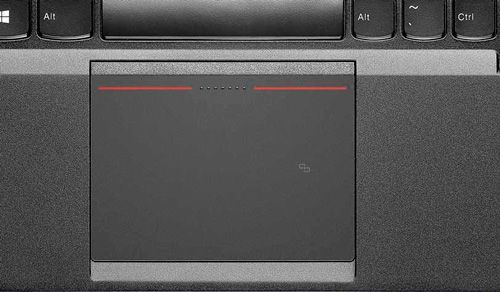 By the way, for extra security provided a fingerprint scanner, which is located next to the switch unit. It will protect your personal data from unauthorized access by unauthorized person.
Performance – Lenovo ThinkPad X1 Carbon
As already noted above, the laptop comes with OS Windows 8.1, because this operating system is perfect for use with laptop touch.
Running laptop Lenovo ThinkPad X1 Carbon-based dual core processor Intel Core i5-4200U architecture Haswell. It has low power consumption (15 W) and is specially designed for thin notebooks. Processor clock speed is 1.6 GHz, cache in the third level is 3 MB. Thanks to Hyper-Threading technology chip is able to process four threads simultaneously, and with Turbo Boost increases its frequency to 2.6 GHz. However, there are other configuration rolls harder, for example, processor i7-4550U in conjunction with a more powerful graphics card Intel HD Graphics 5000.
Incidentally, in this case we have integrated graphics Intel HD Graphics 4400 , which is the operating frequency from 200 to 1000 MHz. It supports DirectX 11.1, OpenGL 4.0 and Shader 5.0, and in games where you need good graphics drawing behaves acceptably, although a number of contemporary toys her performance is not always enough. For example, you can play at maximum settings with a resolution of 1920×1080 pixels in FIFA 13 with a frequency of more than 30 frames per second. Besides, will Torchlight 2 at medium settings and display resolution of 1366×768 pixels with 40-41 fps or Counter-Strike: GO at the same frequency, but at high-settings.
The amount of RAM on the motherboard for welding is 4 GB standard DDR3L-1600 MHz. There is a complete set and with 8 GB of RAM. Although 4GB is usually enough for everyday office and more complex problems. Storage provided SSD of 256 GB.
Ports and Communications – Lenovo ThinkPad X1 Carbon
Laptop Lenovo ThinkPad X1 Carbon is equipped with a sufficient amount of work to complete the ports and connectors. Judge for yourself: on the left side there is a standard USB port 3.0, video output HDMI, Mini DisplayPort, a connector for a docking station and a combined audio jack. Also to the left jack is provided for recharging.

Right end staffed another USB 3.0, connector adapter with RJ-45 and Kensington lock.

The front part of the laptop is empty, and on the back, below the door, you can see the SIM-card. Unfortunately, there is no card reader device, although many users it probably would have been in demand. Yes and no video output VGA in this business laptop seems unreasonable, despite the fact that the producers tried to make it as thin as possible.


Wireless data transmission is carried out with the help of Bluetooth 4.0, Wi-Fi 802.11 b / g / n, Wi-Di, also in the laptop has the technology for contactless payments and NFC GPS. 3G module is paired with a corresponding package of mobile operator SIM-card and allow you to enjoy high-speed internet coverage is Wi-Fi.
Battery and heating – Lenovo ThinkPad X1 Carbon
This laptop has an 8-cell lithium-polymer battery, which is the capacity of 45 Wh. Officially, the manufacturer promises to 9 hours on a single charge, but in reality the results declined slightly worse. Battery capacity is enough for about 5 hours at an average load, for 7 hours at a minimum and 3 hours – under high. Indicators are not too optimistic, given that many competitors in this niche laptops able to demonstrate better results. Thanks to the built-in function RapidCharge, accelerates the process of charging the laptop for an hour is charged at 80%.
Definitely pleased with the noise and heat of this gadget, or rather, the lack thereof. Even during intensive work laptop stays cool, and the work is carried out quietly, that, you, very nice for any user.
Conclusion – Lenovo ThinkPad X1 Carbon
We can confidently say that the refurbished laptop Lenovo ThinkPad X1 Carbon became better than their predecessors. First, it is thinner now, the level rose above the display indicators, in particular, increased screen resolution. Secondly, modernized filling became more interfaces. Third, it proved keyboard, because it is durable and comfortable, but perhaps misunderstood will replace the function keys on the media bar.
However, high resolution, and also played havoc with the display sometimes unadapted under it gives soft and fuzzy grain. Also, can someone disappoint relatively low self indicators, although business notebooks running time of the battery – not the most important criterion.
And yet the number of advantages clearly outweigh disadvantages, and therefore summarize that Ultrabook Lenovo ThinkPad X1 Carbon perfectly complement the business user style not only for its solid appearance, but also functionality.
Read another very interesting article about alternative energy of the Sun, water and air.