On Monday, a Chinese manufacturer Gionee made a presentation during which presented its new smartphone Marathon M5 Plus. Gionee said that the Marathon M5 Plus is an updated version of Marathon M5, which was presented in June 2015.
Let's start with the principal – the price of Marathon M5 Plus is 2499 yuan, or about $385. The smartphone will be available for sale in China since December 25, 2015. In addition, the company announced lower prices for Marathon M5. Now the price of old model is $300.
It should be noted that the new smartphone will have several variations with different hardware and software characteristics.
The main feature of Gionee Marathon Plus M5 is a big battery. Even though the battery Marathon M5 Plus (5200mAh) is less than the Marathon M5, however, it is much more other mobile devices on the market. Also, the manufacturer says that the battery of Marathon M5 Plus retains 90 per cent (4500 mAh) of its original capacity after 600 charge cycles. Thus, the battery life is about 2 years.
Gionee reported that it has made great efforts to reduce energy consumption at the level of software. Marathon M5 Plus will warn the user about the programs that consume large amounts of battery power. An interesting feature of the new smartphone is a fast charge, thanks to which the smartphone is charged from zero to 100 percent in just 117 minutes.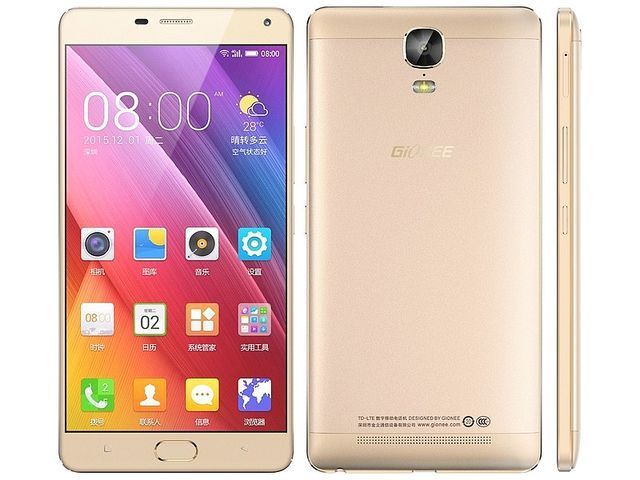 Marathon M5 Plus runs on Amigo 3.1 based on Android 5.1 Lollipop. The front panel is a 6-inch AMOLED display with a resolution of 1080×1920 pixels. The smartphone is powered by an unknown octa-core processor with 3GB of RAM. The basic version of the Marathon M5 Plus has 64 GB of internal memory, expandable via MicroSD card (up to 128 GB).
William Lu, CEO Gionee, said:
«Marathon M5 Plus is smartphone of new generation, that is why it is equipped with a large screen".
Marathon M5 Plus has a fingerprint reader on the button Home, similar to the Touch ID from Apple.
"We asked users of Weibo, where it is more convenient to use a fingerprint reader: on the front or rear panel. Nearly 80 percent of members voted in favor of the front panel".
Series of smartphones Gionee Marathon is known for its long battery life. That's why all smartphones in this series are quite heavy and massive.
Software Gionee has several new features, such as Ami Clone. This feature allows users to back up all data on smartphone. When user makes a recovery, the program remembers the little details, such as icons on the home screen. Also, the operating system has a child mode which allows parents to restrict access to applications. The mode can be activated or deactivated using a password or a fingerprint sensor.
Read another very interesting article about alternative energy of the Sun, water and air.