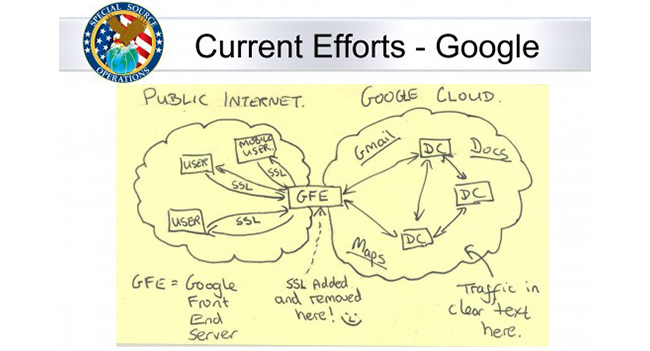 A former employee of the National Security Agency U.S. Snouden Edward (Edward Snowden) shared the regular portion of the information regarding the activities of NSA. It is reported by The Washington Post.
It is reported that the NSA secretly penetrated into the main telecommunications link, combining data centers Yahoo and Google all over the world. Because of this, the Agency the opportunity to collect data on hundreds of millions of user accounts from different countries. In this case, NSA keeps quite a number (though not all) of the data collected.
According to the source, in one month preceding the date of January 9, 2013, from the internal networks of Yahoo and Google have been collected and deposited with the headquarters of the NSA about 181.3 million new records. These records include information about the sender of e-mails, their addresses, dates of shipment, containing text, audio or video content.
The introduction of the link Yahoo and Google is part of the project MUSCULAR, which is being implemented jointly with GCHQ (Government Communications Centre – the UK intelligence services). It should be noted that within the framework of the program PRISM Agency NSA and so can access account information Yahoo and Google, but only with the authorization of the court.
Representatives of Yahoo and Google have said they do not provide access to their networks and systems by any governmental agencies.
Read another very interesting article about alternative energy of the Sun, water and air.