In the App Store released a new version of the game Cut the Rope. In a fascinating arcade, which boasts 300 million downloads worldwide, a new box of cheese and mouse game character.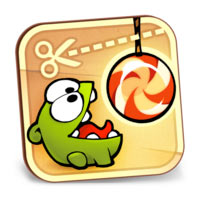 Cut the Rope Russian developers compare the popularity of the hit Angry Birds. The game has been widely adopted by smartphone iPhone, iPad tablets and Android-powered devices and still occupies the top the charts. However, application developers do not rest on our laurels and release updates to the favorite of the game.
"Cut the rope and feed the little monster Am Nyamaa candy. In a phenomenal game for over 300 million downloads worldwide, 375 new levels and on the way. Unpack the box as little monsters really wants to eat your candy! Collect the gold stars, look for hidden prizes and unlock new levels in this entertaining, fun, physics-based game."
The essence of Cut the Rope is that gamers need to feed their sweet cute green creature named Om Nom, so that in the end it was in his mouth, before collecting the maximum amount of yellow stars. In this delicacy not just deliver a small animal – caramel hanging on a clothesline, and follows the laws of physics.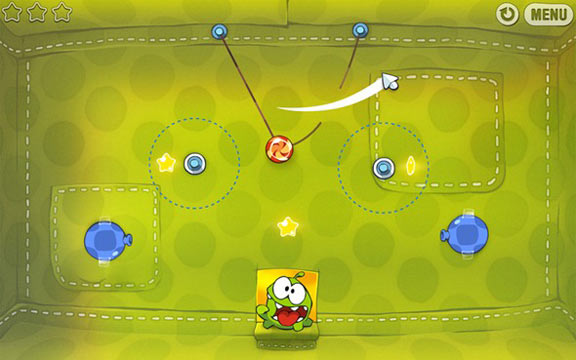 The update Cut the Rope under the symbol 2.3 has a new syrka box and mouse character. Rodent likes to play with candy, dragging her out of the mink mink. We need to act quicker to get the candy and feed Nyamaa Am.
Features Cut The Rope for iOS:
375 levels, 15 levels boxes.

The innovative game mechanics, physics-based.

Charming character.

Superb graphics.

Short cartoons Am Nyamaa.

"Superpowers" (Superpowers).

Continual free updates with new levels and lots of cartoons.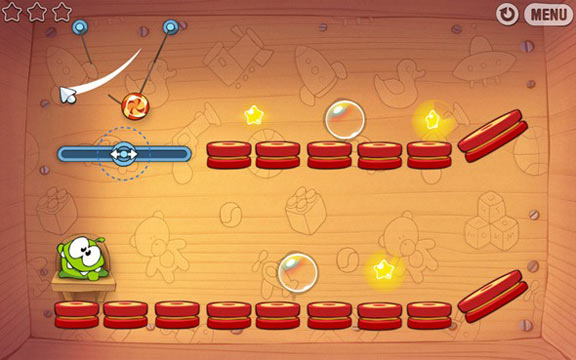 Last year, the game has become the winner of Apple Design Awards , which is awarded to third-party developers for the development of the highest quality, designed for computers and mobile devices on iOS. In 2013, Cut the Rope was in fourth place in the list of the most popular games for the iPhone and in ninth place in the top iPad apps in the history of App Store.
Read another very interesting article about alternative energy of the Sun, water and air.