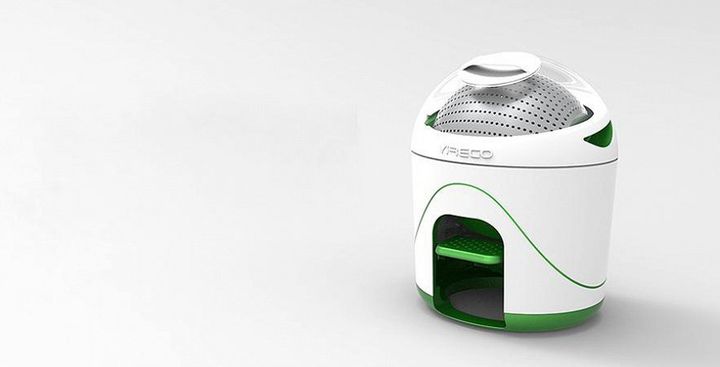 We are all civilized people, who are able to wash your clothes and walk in pure form. But we live in a world where you have to pay electric energy. In this world, and so multiple devices that require electricity. And if you're tired of wasting your money on electric energy per wash. Then you're in luck, as the inventors have invented a new type of washing machine.
Let's see what came of it.
The company Yirego came up with an interesting device that helps to move to a new, more ecological view of washing your clothes.
The creators called their new device Drumi. The new washing machine has the ability to wash your clothes, and do not use electric energy and use a minimum amount of water.
Drumi device weighs only 7 kg and can use up to 10 liters of water to efficiently and quickly wash your clothes.
The basic principle of the washing machine Drumi
Washing Machine Drums works by rotating up and down one pedal. In this case, the drum washing machine rotates and more efficiently washes your clothes. The principle of operation is very simple. But it allows you to wash your clothes just a little more than 1 kg of clothes for 5 minutes.
Interesting sounds, is not it? But this washing machine, there are other positive advantages, namely Drumi virtually noiseless. Which is good, because it will not annoy you from excess extraneous noise in your home. In addition, the device has not a lot of weights, which can be transported to the cottage or elsewhere.
With regard to the environmental point of view, the inventors have found that a new device can reduce the carbon footprint of 4.5 kg per week. This figure depends upon conventional autonomous washing machine. Besides water consumption for a new washing machine Drumi reduced 5 times.
The inventors of the company Yirego promise to release a new product Drums this summer 2015. And now open for pre-order ecological washing machine Drumi on the official website, and the price is $ 129.
In conclusion, I would say that such fine products help to improve our lives in terms of ecology environment. We must strive to make more of similar devices in our lives.
Source: Yirego
Read another very interesting article about alternative energy of the Sun, water and air.