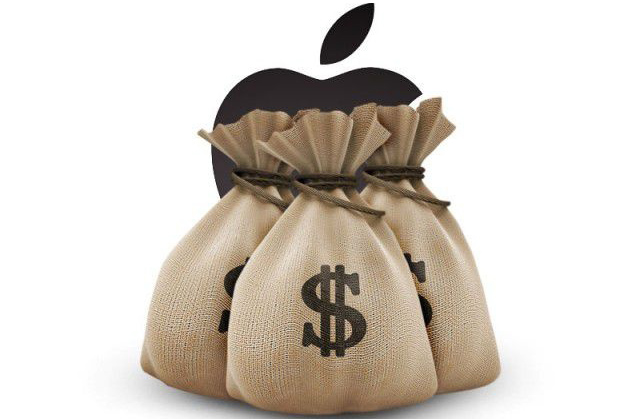 Literally just that Tim Cook, Apple's CFO Peter Oppenheimer and its treasurer Gary Uifler reported on the performance of corporation for the fiscal third quarter of this year. Remember all the forecasts of analysts – just the facts and figures are fresh. So there you go.
Financial performance:
Revenue – 35.3 billion (for the same period in 2012 – $ 35 billion)

Net income – $ 6.9 billion (in 2012 – $ 8.8 billion)

Earnings per share – 7.47 USD (previous year – 9.32 USD)

Free money – 146.6 billion dollars, 106 billion – in the offshore
But as varied revenue and net profit of Apple in the third quarter of 2011: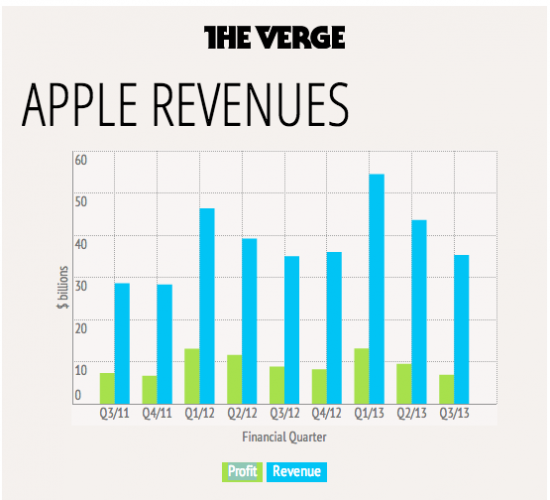 Sales:
iPhone – 31,2 million units (in 2012 – 26 million)

iPad – 14,6 million units (in 2012 – 17 million)

Mac – 3,75 million computers (in 2012 – 4.02 million)

iPod – 4,57 million units (in 2012 – 6.8 million)
With each sold iPhone and iPad Apple began to earn significantly less than in the previous year: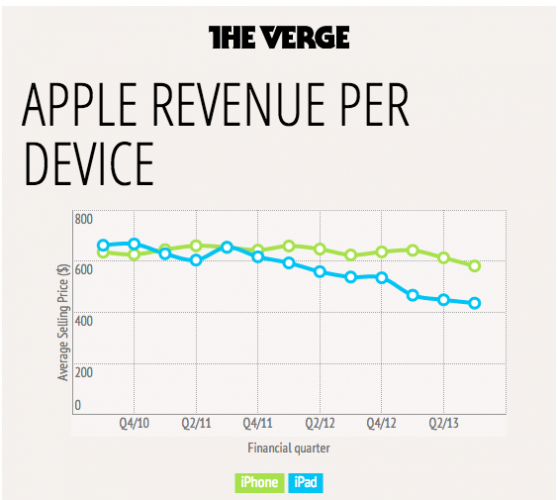 Sales Dynamics iPhone, iPad, Mac and iPod for the last three years: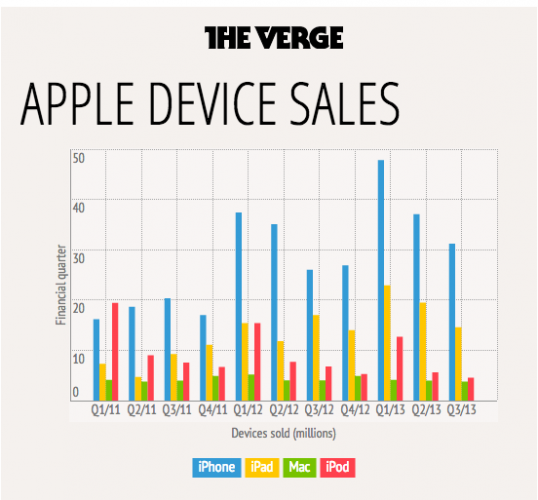 Apple Store:
Revenues from the Apple Store – 4,1 billion (as last year)

It was opened six new stores, they are now 408, and 156 – outside the U.S.

This year, Apple plans to open another 27 stores (really Russian?)

Every retail store visits 15,000 people a week
Services Apple:
ICloud users has reached 320 million people

Income from the iTunes Store has passed for $ 4 billion

IMessage users sent 900 billion messages and received 8000000000000 push-notifications

The number of applications in the App Store – 900000
Interesting facts and allegations:
57% of its revenue outside the U.S. Apple gets

iPhone – number one smartphone in the U.S. with a market share of 39%

The new Mac Pro will be available for purchase later this year

Top management pleased with the growth of Apple iPhone sales in Russia

Tim Cook called the results of Q3 «satisfactory»

Apple is not afraid of over-saturation of the market, because it has a lot of room for growth

Question about putting the system trade-in is not answered

Dividends will be paid to shareholders on August 15 and will make 3.05 per share
IPad sales decline was quite expected, since this year, Apple has not yet provided us with a new generation of its tablet. Demand for Mac computers and iPod falls every year, and even the presentation of new laptops does not allow corporations to change that.
If Cupertino still managed to keep revenues at last year's level, with net profit at Apple is not so good. It fell by nearly 20%, but the fourth quarter should improve the situation through the presentation of new products this fall and reduce costs. In addition, all statements about the sunset Apple sound funny after studying these charts: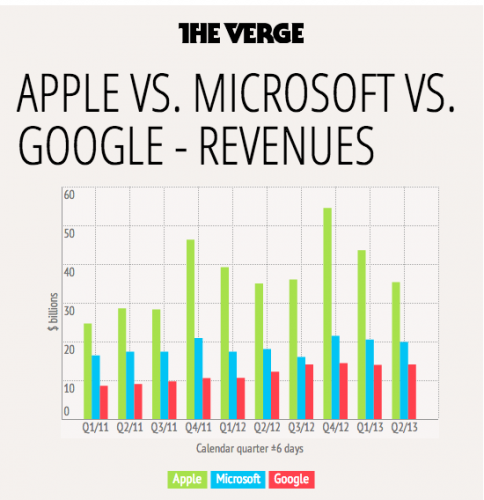 It was not the best quarter for Apple, but it still remains the leader among other technology companies.
Read another very interesting article about alternative energy of the Sun, water and air.