Android TV box, or so-called Android set-top box, sometimes needs to be rebooted, just like any other computer. However, more rarely you have to perform a hard reset due to software errors or malfunctions in Android set-top box.
First, you should remember that Android TV Box hard reset works as well as on Android smartphones. It means that all stored data is deleted from Android set-top box, including applications, settings, movies, etc. Hard reset restores factory firmware version with a standart set of applications.
Now, let's look at how to perform Android TV Box hard reset. We will do a reset on one of the most popular set-top boxes – Android TV Box CS918 (aka – Q7).
Android TV Box hard reset: Method 1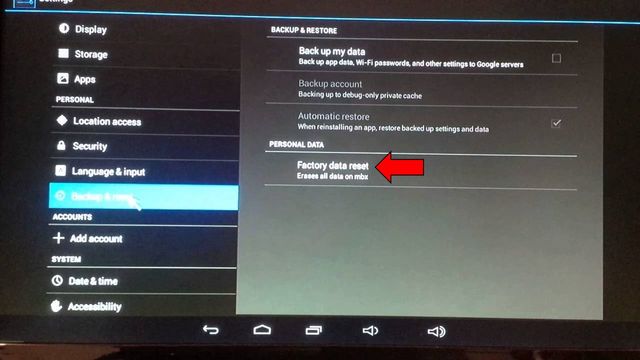 Open the main screen or application menu, then go to "Settings". Here you need to select "Backup & reset". Further, if you want to save important data, start the process "Backup data". You need to connect to Wi-Fi and enter Google account details.
Now the most important thing – select "Factory Data Reset" option. Read the warning, and then click on "Reset data".
Android TV Box will be turned off. You shouldn't press buttons or disconnect device from outlet. Wait until the process hard reset will be completed. A few minutes later, your Android set-top box reboots and turns on.
Android TV Box hard reset: Method 2
If you cannot get into the settings menu, Android TV box glows blue and image does not appear on TV screen, then you can perform hard reset using Reset button.
First, you should take the device in your hands. Look closely at the set-top box from all sides to find the reset button. Look the manual where it is located. The reset button on Android TV Box CS918 is located on the bottom.
Press and hold reset button. Now you need to disconnect the power cable from Android TV Box, at that time continue to hold down reset button.
After a couple of seconds, connect power cable again and press power button on the front panel of set-top box.
If you did everything correctly, the TV screen will flash (now you can release reset button). Then you will see android logo or something like that on TV screen.
Recovery menu appears. You can use remote control or keyboard to select Wipe Data / Factory reset. Then press OK on the remote control or Enter key on your keyboard. The next window select Yes – delete all user data.
After a few seconds the first menu appears again, you need to select Reboot system now. Wait a few minutes until the system is fully rebooted.
That's all! Android TV box hard reset was successfully done.
Read another very interesting article about alternative energy of the Sun, water and air.