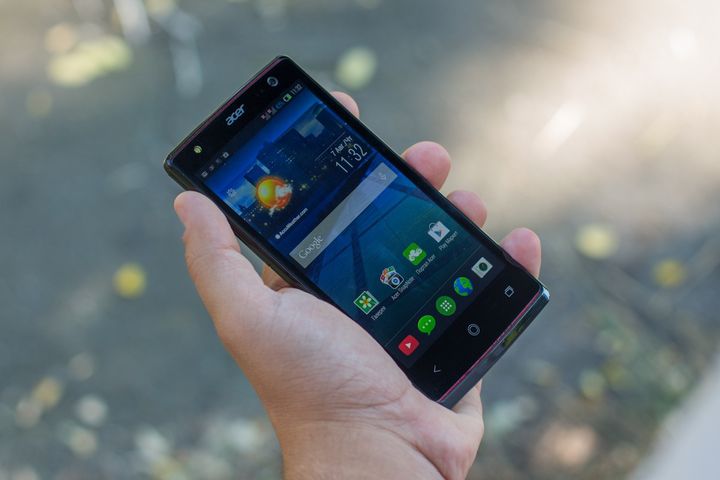 Smartphone Acer Liquid E3 is running Android 4.2. Brief specifications Smartphone Liquid E3: 4-core processor, 1.2 GHz, 1 GB RAM memory, 4GB ROM, interfaces, Bluetooth, microUSB 2.0, Wi-Fi 802.11 b / g / n, 13 camera and 2 megapixels., FM radio, GPS chip with the function of A-GPS.
Rather curious to get a new smartphone Taiwanese manufacturer. The model is positioned in a cohort of low-cost solutions, and not much stands out in terms of "hardware under the hood", actually shows quite a good performance. In addition, there IPS LCD monitor, support for dual-SIM and battery 2000 mAh. However, only those opportunities are not limited to new items.
Materials and assembly – Acer Liquid E3
It is easy to see that the basis of solid matte plastic body, which is present not only on the rear panel, but also on the "marginalia", where in turn joined to trim the display. Adapting materials performed very well – no backlash even minor user will not see here.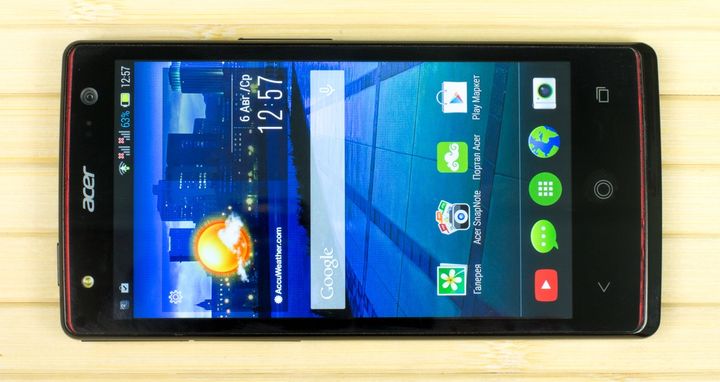 The thrill of working with the tube with your fingers, holding his hands, mostly positive. An exception in this regard can only be described location of the key on / off. The latest addition to being put to the upper end, is also shifted to the left. However, it is bad, look further.
To touch icon user will be able to "reach" virtually all that is definitely also a plus, given the 4.7-inch display is "on board". Well, if you add to all this the weight of 135 grams smartphone, eventually we get and quite comfortable for a long operation. The only thing you can complain about used plastic "loves" fingerprints, but they are easily wiped off.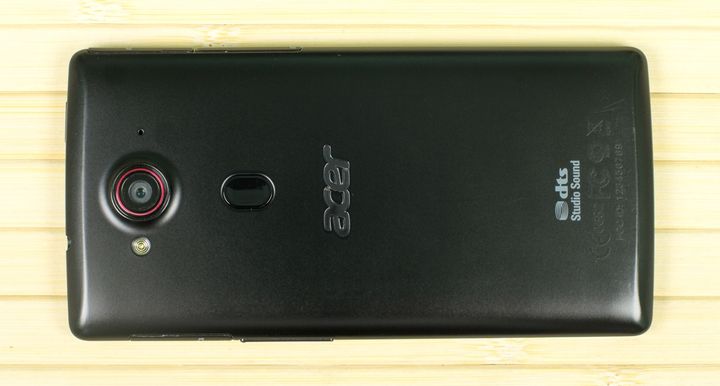 The front panel is covered with a protective glass, however, how exactly, the manufacturer does not specify. However, none of my classical test – friction on the surface with a coin or weekly transportation to jeans pocket was not enough to cover the mark obtained.
Functional elements – Acer Liquid E3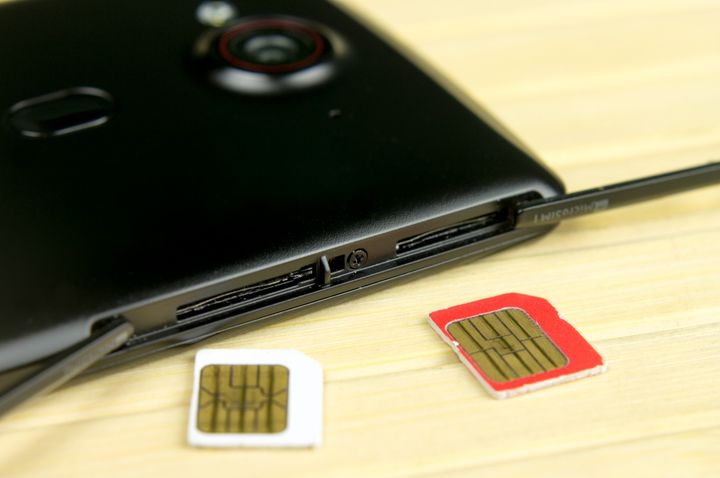 The front part of the body is divided between a large display, three classical touch buttons, eyelet front-facing camera, light sensor / proximity, as well as the earpiece plus an indicator of events. In addition, just below the buttons mentioned is Net speakerphone, as well as a miniature slot built-in microphone.
Rear panel of notable eye 13 megapixel camera and flash and output noise canceling microphone. In addition, here are a few logos plus button Acer Rapid. On the possibilities of the latest talk on.
Looking around the right side face, the user "spotted" her "place" for memory cards MicroSD and volume rocker sound.
The left edge has received slots for SIM-cards.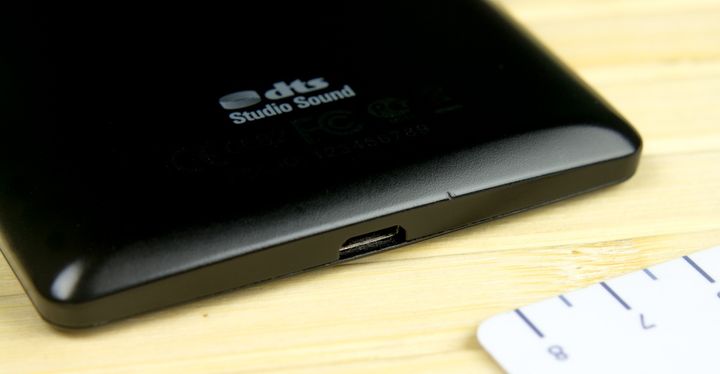 At the top end classic 3.5 mm jack and the aforementioned button on / off smartphone.
Display – Acer Liquid E3
Acer Liquid E3 has a 4.7-inch HD LCD monitor. At the heart of IPS-matrix with pretty good viewing angle both vertically and horizontally.
The density of pixels per inch is impressive – 312 points.
While working with the tube in contact with the panel bright sunlight without a certain "extinction" of the displayed data do not work.
However, even so the information remains quite good viewing without the need to cover the display by hand.
The backlight is available in two classic ways – manually and / or automatically.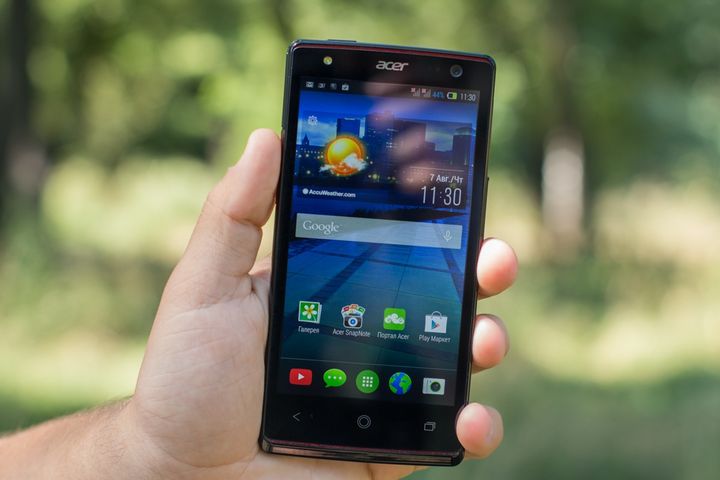 Sensitivity raises no objections – touch control supported by five fingers simultaneously.
Do not forget the manufacturer and for the oleophobic coating, due to which, in fact, the user is easy to clean glossy glass from oily fingers divorce.
Memory – Acer Liquid E3
Claimed amount of internal memory to 4GB. I note in my test sample of free disk space turned out a little less than half, but in the commercial versions of the manufacturer promises to 2.61 GB. Agree quite well.
Expansion is realized through microSD memory cards up to 32 GB or less. USB OTG specification is not supported.
Speakers – Acer Liquid E3
The smartphone has two speakers – spoken and speakerphone.
Perhaps the first good. User is quite comfortable to communicate with a customer of both indoors and outdoors. The sound quality is nothing to complain.
Liked and handsfree speaker. Due to the fact that he put into the front panel, the sound is directed directly to the user – it is not suppressed and does not dissipate, which can not be avoided if it will be back.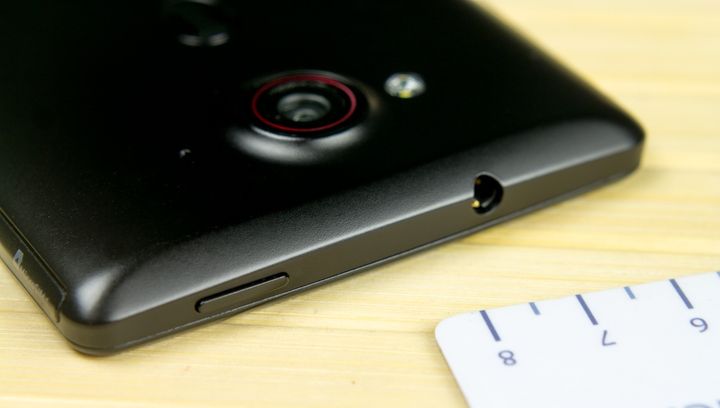 Volume satisfactory even for the street – not hear the call will be difficult. Under the conditions of the room would be a good voice video, MP3 or games.
To work with sound, there are three section in the settings. The first two classic – "Sound" and "Sound profiles." The third – a DTS Studio Sound, which is an indirect competitor of Dolby Digital – family settings to maximize sound quality during playback of audio or video content.
Battery – Acer Liquid E3
Acer Liquid E3 has a battery, with a capacity of 2000 mAh.
One full charge, in practice, enough for a day of work at a relatively-small loads: one and a half hours – talking, at least an hour – WEB-surfing and email, as much for the viewing of documents, 40 minutes – MP3 playback, about an hour and a half-hour video work with a camera .
And provides a software upgrade energy efficiency. It is called the Power save and offers a choice of two profiles – Best mode and My Mode. Limitations in the first of these are programmed by the manufacturer, and in the second, the user can define their own.
Accommodations and shell – Acer Liquid E3
Powered smartphone operating system Android 4.2.2 "out of the box." About Upgrading to a current release at the moment there is no official information.
The "heart" of the device is a 4-core CPU MTK6589, the clock frequency of 1.2 GHz. The amount of RAM – 1 GB. Graphics Power VR SGX544 MP.
In addition, the user Acer Liquid E3 available modules Wi-Fi 802.11 b / G / n, Bluetooth 3.0, VPN, Dual-SIM and GPS .
On top of the operating system installed proprietary shell AcerFloa. In the locked position the tube user can get quick access to one of the four features of the device (in the number of quick launch icons), or just remove the lock.
Running applications are displayed in a cute animated icons. To see them, simply press the start button on the context menu. Here are the icons are shortcuts to your calendar, calculator, phone book, etc..
Supports work with cloud-based applications Acer Cloud. Through it, the user can remotely stored backup photos from your camera for 30 days.
Performance – Acer Liquid E3
It is curious that, despite not being the most interesting "hardware", in practice it turns out to be enough opportunities for a variety of games as well as playback Full HD – video.

A very interesting feature of Acer Liquid E3 can call located on the rear panel button smartphone Acer RAPID. In practice, it is fixed for a few steps. For example, the user just one click can unlock the phone, you have no need to "stretch" to the key at the upper end. But the second pressing it will start before the scheduled application.
Like function Quick Touch, it can help to unlock the smartphone, drawing on the display letter «I», run the player using vectorization «Z» or a double tap to see the time. Well, it sold quite comfortably.
Camera – Acer Liquid E3
13 megapixel main camera autofocus system complemented both photo and video. In addition, "on board" LED flash and a good amount of different settings / shooting modes.
Conclusions – Acer Liquid E3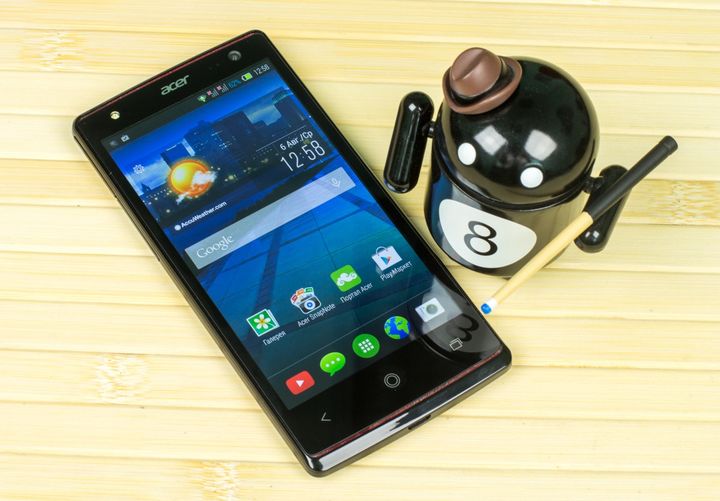 In my opinion, Acer Liquid E3 looks interesting buy for their money. "Under the hood of iron", which is sufficient for almost all daily tasks. Besides trump tube can be called personalization opportunities, a lot of interesting settings, IPS-display support for dual-SIM, etc..
Pros Acer Liquid E3
– The level of assembly / protective coating front panel;
– IPS-display with good viewing angles;
– Decent possible speakers / Dolby Digital / location speakerphone;
– Beautiful and functional shell;
– Productivity features with an eye on the price tag;
– Button Acer RAPID
Cons Acer Liquid E3
– Important None
Estimated cost Acer Liquid E3: $ 250
Read another very interesting article about alternative energy of the Sun, water and air.