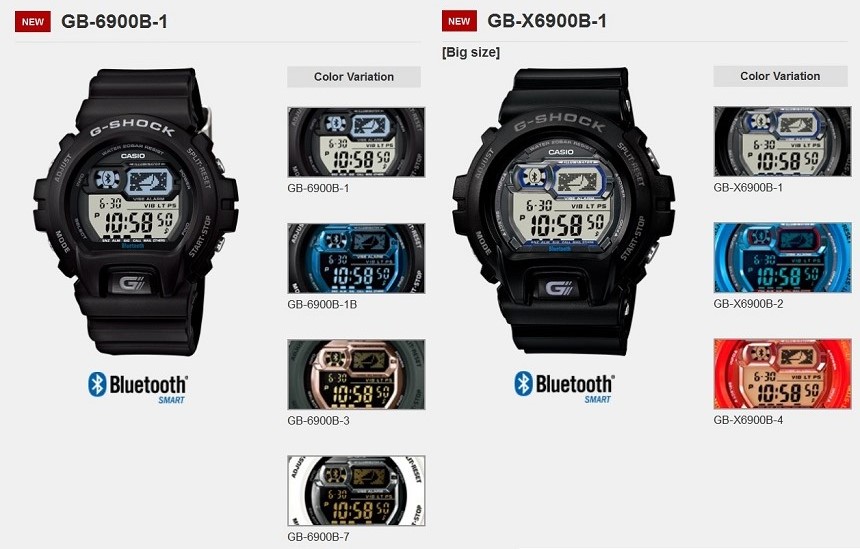 Until recently, the topic smartwatches for me was far away. Quite straight, I do not understand why they are needed. While to our guests do not come Arseniy Finberg and detail not tell what's what. Now I know exactly what features smartwatches I need – is to control your music player, some applications (especially RunKeeper, in the case of the Pebble), and it's not to drain the clock for a couple of days. Now slowly move on to Casio – from this manufacturer hours I prus since childhood and even had a couple of hours. In recent months, I have a special interest I look at the windows with aggressive and massive G-Shock, because I want one, and there are models of Casio Announces G-Shock GB-6900B and GB-X6900B. I think I've earned them, you just wait for the start of sales.
On the surface – it's all the same as before, the usual G-Shock, with an incredibly cool and sporty design, with excellent shock resistance and water. But there is in this watch and something special – a smart component. And this is just a godsend, because this watch you get a lot of advantages over even the best of today smartchasami – Pebble. To begin with – it is the design. I do not know if all will agree with me, but G-Shock looks fucking awesome, and all! Do not forget about the security of hours, they can dive to 200 meters, and even if dropped from a great height with them, nothing will happen. The display of the watch is the same as in all other models, and thus exactly readable in any situation and in any light. For example, the display MetaWatch – is generally marvelous experiment, see details in it only under a certain angle. Hours, even intelligent, first of all should be that for hours, and G-Shock, I think, will give a head start for beginners. And most importantly – battery life. With 12 hours of Bluetooth in the day, hour hold on 2 years! This is not a day or two. By the way, for me it was the main drawback of all smartchasov.
In addition to the normal functions of any watch G-Shock, a world clock, alarm clock, stopwatch, timer, etc., the clock will show you a notification about the missed mail, new tweets, posts to Facebook, notified of an incoming call and can even zamyutit its simple touch clock. Also, importantly, you can control the music player with the model G-Shock GB-6900B and GB-X6900B, namely, pause and switch tracks. There is a very useful feature detection smartphone when you can not find it in my mess – the clock signal is sent to it. Calendar, SMS, alarm clock – all Shinkai for Bluetooth 4.0. Casio will also release the app for iOS and Android, with which you can control the clock. Thus, two-way control is implemented.
Watch should go on sale in September, their expected cost – $ 200. This is another advantage, as the Pebble and the other is not much cheaper, but there are real G-Shock. Of the shortcomings – for Pebble can write third-party application, whether such a possibility for the clock Casio – is not known. Most likely, a vibrating motor in the G-Shock of the question, and then everything will be accompanied by a beeping alarm. And last – resolution screen area allocated for notifications quite small, which means you will not see the message subject, but only the icon.
Read another very interesting article about alternative energy of the Sun, water and air.