Many of you have heard about hard reset. What is it and what does hard reset do Android? In this article, you will know all details about hard reset, including what it is, what happens during a hard reset and what the consequences.
Hard reset is a built-in function in all electronic devices, not only Android. You can find hard reset in iPhone, Blackberry, Windows Phone, even computers and laptops. Today we will focus on the question – what does hard reset do Android.
Android is the most popular mobile platform in the world. More than 80% of phones around the world use the operating system Android. The most popular manufacturers, such as Samsung and LG, produces quality Android devices and offer excellent after-sales services.
You can also find less well-known companies, such as Chinese brands, which care little about the technical support for its customers. If your phone does not work, what to do? You can not contact the manufacturer, so you should rely on your own resources.
You can use a variety of tweaks on Android, for example, flashing firmware, update to the latest version, ROOT and hard reset. Hard reset is a universal function, which helps to fix many problems on your Android device.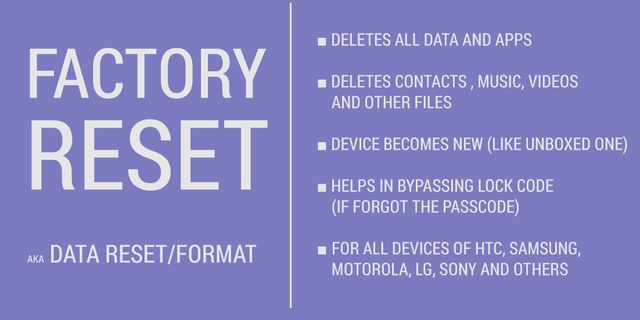 What does hard reset do Android?
Hard reset is also called reset to factory settings. As you can guess from the name, hard reset returns the factory default settings, those that have been set by the manufacturer. It means that all personal data on your phone or tablet, such as contacts, photos, videos, phone book, games, applications, etc. completely removed. Also, all settings, time, date, accounts from social networks, Google account, cache memory, etc., are cleared. That's what does hard reset do Android.
Although hard reset can help you to fix many errors, you will need to re-configure the smartphone. Modern Android devices offer to create a full backup of the data so that you can restore your personal files after you perform a hard reset. Be sure to do it, so you do not lose important files.
We hope that we were able to explain what does hard reset do Android. Our website offers a lot of instructions on how to make a hard reset for different models of Android devices. You can use the search to find the manual for your model of the smartphone or tablet.
Read another very interesting article about alternative energy of the Sun, water and air.