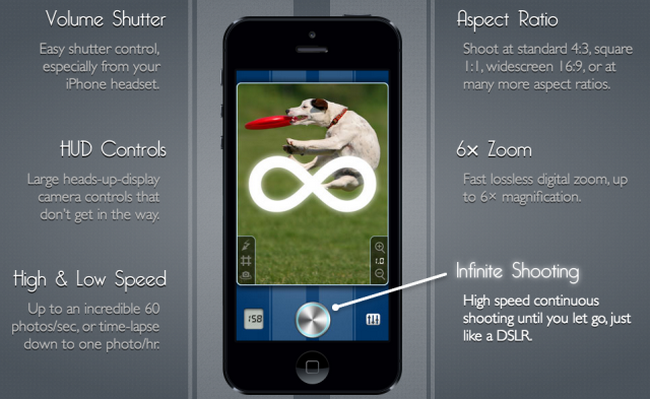 Available in the standard application "Camera" in the smartphone iPhone enough to make 3 to 6 frames per second in full resolution. In situations where a more detailed debriefing after continuous shooting to the aid of third-party applications for the camera. One of these is the SnappyCam 3.0, which allows you to make 20 shots per second.
The cost of the application SnappyCam 3.0 is only $ 0.99 . On the creation of the application Papandripolosa John (John Papandriopoulos), who has a doctorate in electrical engineering, took about two years. We can say that he re-invented the standard JPG to accelerate the process of capturing, buffering, processing and compression of images on smartphones iPhone. According to John, SnappyCam is the fastest application for the camera in the world.
He also said that such applications as FastCamera and Camera Awesome chasing the speed of 30 frames per second, lower-resolution images up to 0.3 megapixels. In this case, the real speed burst shooting up to 4 frames per second in full resolution.
It should be noted that the application SnappyCam 3.0 compatible not only with the current flagship smartphone Apple. However, in the case of the iPhone 4S speed burst shooting up to 12 frames per second at 8 megapixel resolution and 15 fps in a resolution of 5 megapixels, but it's still better than the app "Camera" in the Samsung Galaxy S3, which is characterized by a rate of 3.3 frames per second.
This application will certainly help choose the best photo with a smile, to see a slam-dunk in slow motion or capture every second jump pet. In other words, the application SnappyCam will see the world in slow motion.
Read another very interesting article about alternative energy of the Sun, water and air.