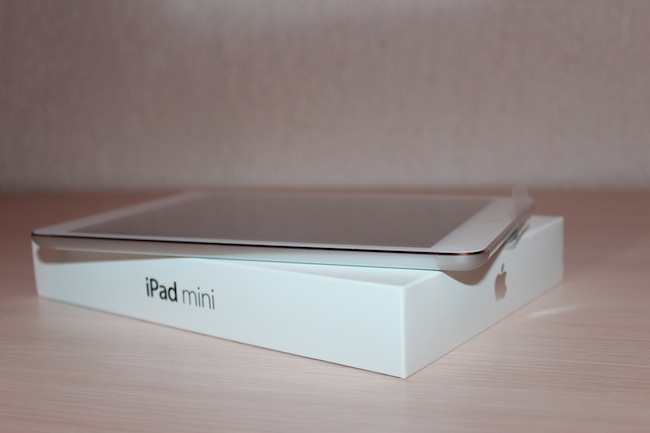 Presentation of the new iPhone is over, but users iOS-devices do not even think to relax: coming event dedicated to the announcement of the new-generation iPad, which is expected to be held on October 15 . It is expected that at its next event Apple will introduce iPad 5, the updated Mac computers , some products for iOS, and the iPad mini 2 with a display Retina. However, many analysts do not believe the "younger" tablet hits the shelves Apple Store before the end of this year.
This time with skeptical statements against the iPad mini 2 representative of the company IHS iSuppli. According to him, the output iPad 5 this year, no doubt – Apple for a year did not renew their "senior" tablet. Nevertheless, it is certain that the release of mini 2 will be more appropriate in the first quarter of next year. And there are good reasons.
Last spring, Tim Cook announced the third-generation iPad – Apple's first tablet with a display Retina. It was expected that the iPad 4 will be in about a year, but in Cupertino decided to change the cycle update your gadget. Instead, the company introduced just two tablet (iPad 4 and iPad mini) after only a few months.
Once Apple has once went to the rescheduling of the output device, why not do it again? The company is known for its unpredictability. At the same time, now it is getting harder to surprise their users, most leaks "merge" in the Network before the official release of gadgets.
In addition, the technology giant will face the challenge of meeting the demand for the new iPad. At the moment, he barely manages to cope with the shortage of iPhone 5S (especially the "gold" version), and after the announcement of two tablet production capacity of suppliers Apple may simply not be enough.
Once Google has released a new version of the tablet Nexus 7 (of course, on Android), analysts are looking forward to a reciprocal course Apple. According to the latest news , iPad mini 2 will not only get the display Retina, but will get a powerful 64-bit CPU, A7, and a fingerprint reader.
Read another very interesting article about alternative energy of the Sun, water and air.