Do you accidentally delete a picture, video or other data on your Android device and you want to recover it? We will tell you about all options how to recover data on Android!
Before you start!
As soon as you realize that you have deleted the file you want, try as quickly as possible to recover data on Android, and not to upload new files, not to create them, not to run free games that download video advertising.
Recover data using Diskdigger
First way to recover data you will need to install application Diskdigger. There are 2 versions of this app:
DiskDigger photo recovery – free version recovers only photos;
DiskDigger Pro file recovery – paid version, recovers all files, you must have Root;
After installation, start the application and select the scan option:
2. Once the files are found, click on file properties: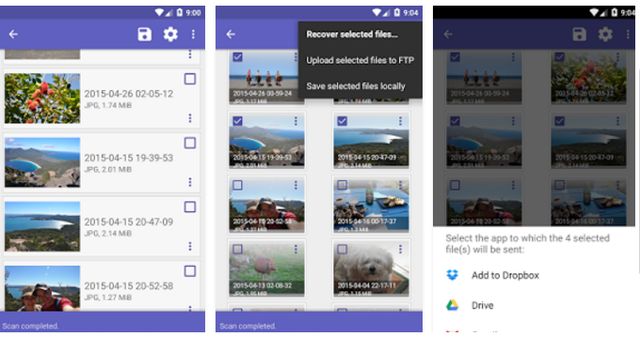 3. Then share file (facebook, cloud drive, e-mail) or save.
Recover Phonebook
This method only works if you have automatic sync with Google servers.
If you accidentally delete contact from your phonebook, do not panic! If you have made automatic synchronization with Google, then recover the data easier than ever.
First of all you need to turn on your computer and go to the Gmail account by entering your account which is registered on your device Android.
In the upper left corner next to the inscription "Gmail" to select "Contacts" dropdown menu;
Go to "Advanced", if you are using a new version of the contacts, then click on the left on the "MORE":
Select "Recover Contacts". You can choose the time for which recover contact, depending on when you notice a problem with them (from 10 minutes to 30 days);
Cancel sync Google contacts to force a synchronization of contacts (or entire Google account) on your Android device, or simply reboot your smartphone / tablet and wait a couple of minutes.
Recover data over a computer (USB drive)
This method will work if your Android device has the ability to connect to computer as a USB drive.
You can check this by going to the Settings:
Settings -> SD card & phone storage, a check mark on the "Removable Disk Mode" and in the notification bar choose "USB drive";
Settings -> Network -> USB Settings
If the data on the card, you will need to purchase a card reader. After that, download and install computer program Recuva.
Recover data
Connect card reader, insert the memory card.
Start Recuva program and select all the files.
After that, the program displays files that can be restored.
Read another very interesting article about alternative energy of the Sun, water and air.