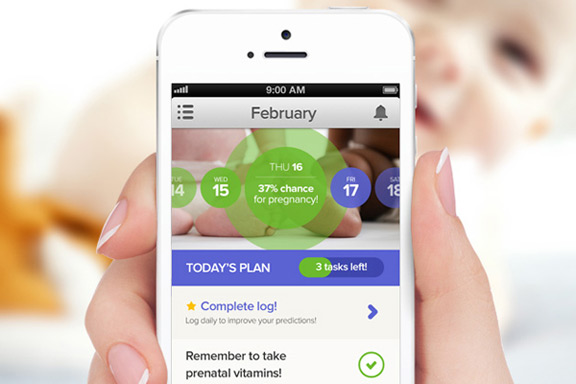 In the App Store app came out for those who want to become pregnant Glow, which made investors PayPal founder Max Levchin and founder of Mail.ru Group, Yuri Milner. In addition to special features for women Glow allows users to participate in a program that guarantees the payment of medical services to those who can not get pregnant for 10 months.
Appendix Glow, as the developers say, is the individual forecast fluctuations in the level of fertility on the basis of the analysis of the data array as input a woman at the start, and updated on a daily basis. Daily information may include morning rectal temperature taken vitamins and so forth. The developers hope that soon wearer will not have to enter the information manually each day – an application to read all of them automatically with other electronic devices. Glow analyzes average of 9 to 15 parameters per day.
Feature of the application is the ability to start the associated program Glow First, the essence of which is to "kraudfandinge children," writes MedPortal . Woman who chooses to participate in the program must regularly fill a diary application, and once a month to transfer $ 50 to the general fund. If, within 10 months of it and not be able to get pregnant, Glow First partial payment of medical expenses at an accredited reproduktologicheskoy clinic. In this case, the money of those who have time to conceive before the deadline will be allocated to pay for treatment of the less fortunate in the Programme.
The creators of the application emphasize that income fund will be used exclusively for the program participants. In this case, how it will monetize the project is not clear. According to Levchin, the main value lies in the application of medical data that will be collected from users. Will the data be sold to pharmaceutical companies, is not specified.
Read another very interesting article about alternative energy of the Sun, water and air.