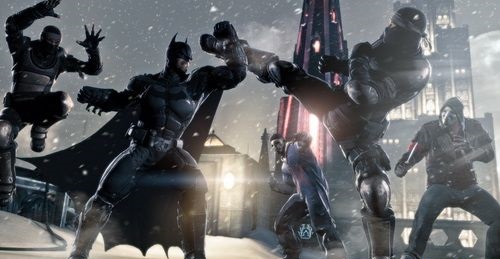 Artistic director of Batman: Arkham Origins Eric Holmes (Eric Holmes) shared new details of the game with reporters VG247. The developer told about the story of the project and a new mode of "1 vs. 100".
Holmes said in the blockbuster Batman still does not cooperate with the commissioner James Gordon and the police. In addition, law enforcement agencies Gotham mired in corruption, and the city flooded criminals. Employee Warner Bros. Games Montreal has also shown a small demo of the game. It Batman villain chasing fireflies, which undermined the bridge to lure the protagonist into a trap. The enemy wants to get the $ 50 million that Black Mask promise by the head of Batman. Gunman tells of one meeting with the Joker of Batman, but this character is not the main enemy eared defender of justice.
In Batman: Arkham Origins gamers will be able to beat the enemies of electric glove, which at times increases the strength of the hero and provides access to new shocks. The charge gloves restored if the players will be used in a fight a couple of electric batons.
All these gadgets will greatly help in the new mode "1 vs. 100". In it, we have to stand in the battle against hundreds of enemies by playing as Batman or Dezstrouka. Anti-hero will shoot at enemies with pistols and use bombs.
Batman: Arkham Origins will be released on PC and home consoles (PlayStation 3, Nintendo Wii U and Xbox 360) October 25, 2013.
Read another very interesting article about alternative energy of the Sun, water and air.